As a rule, we believe in encouraging a love of vegetables in our little ones from as early an age as possible. Instead of trying to hide veggies or 'sneak' them into dishes, it's always preferable  to celebrate their vibrant hues and goodness by making our baby food look as colourful as we can.
Sometimes, however, our little ones just won't play along… and the mere glimpse of a green veggie at the dinner table can be a signal for battle to commence!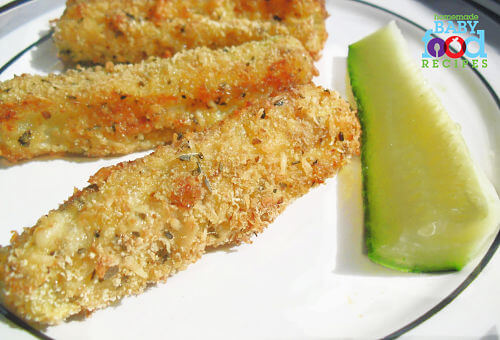 So today's recipe is particularly useful if YOUR little one is displaying something of an aversion to vegetables, as it's a great way to turn zucchini (or yellow summer squash) into tasty, slightly crunchy treats that look rather like fries… but are ten times healthier!
This recipe is perfect for babies already enjoying finger foods or baby led weaning. The sticks are VERY easy to eat and super soft – almost mushy – on the inside. You'll find that you'll enjoy them as much as your little one, so ensure you make plenty to share!
Please note: these Zucchini Sticks do not freeze well and are best made as needed!
To Make Cheesy Zucchini Sticks You Will Need…
1 zucchini (courgette)
4 tbsp plain, dry breadcrumbs
1 tbsp wheat germ (if you can't get wheat germ, then you can simply omit it from the recipe)
3/4 tsp dried basil
3/4 tsp dried oregano
2 tbsp finely grated fresh Parmesan cheese
1 egg, beaten
Preheat the oven to 375 deg F and grease a baking sheet.
Mix the breadcrumbs with the wheat germ, Parmesan cheese and herbs in a shallow dish. Feel free to add to or substitute the herbs with others that your baby enjoys.
If the zucchini is small, then  simply quarter it lengthwise to create long 'fries'. If (like ours) it is quite thick or long, then just cut it up into shapes resembling thick fries.
Place each zucchini stick into the breadcrumb mixture, toss to coat, then dip into the beaten egg and coat thoroughly. Place back in the breadcrumbs and coat again – this 'double dipping' helps create a thicker, crunchier coating that's more likely to stay on!
Place the coated sticks on the baking sheet and spray with cooking spray.
Bake for 10 to 15 minutes until golden.
Serve just as they are, perhaps with a homemade tomato sauce dip, or serve as a side dish with a main meal.