The wonderful thing about dishes prepared with lentils is that they're incredibly healthy and packed with goodness… the bad thing is that they're not always too pretty!
Case in point is this delicious Chicken and Lentil One Pot Dinner – not only is it jam-packed with nutrients, it's also very flavourful AND easy to eat. And those magic words – "one pot" – mean that preparation is easy too, with little to cleanup afterwards!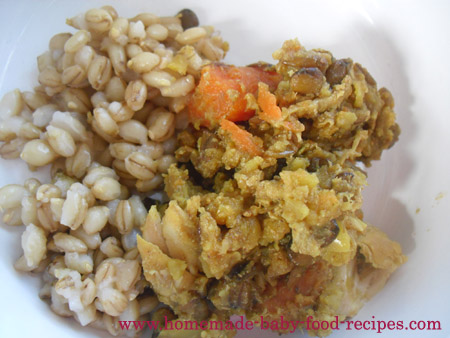 (Please note: whilst you can serve the chicken and lentil mixture as it is, we've paired it up with hulless barley in our picture – a yummy combination which provides some 'finger food' practice for older babies).
This meal is suitable for babies from around 10 months onwards, already used to dealing with some texture. It's a great 'make ahead' meal as it freezes well – if it's a little thick on reheating, then just add extra water or stock until you reach the consistency your baby enjoys.
To Make Chicken and Lentil One Pot Dinner for Baby You Will Need…
1 cup of chopped carrots (peeled if not organic)
3/4 cup of dried lentils
1 lb boneless, skinless chicken breast, cut into bite size pieces
1 garlic clove, crushed
1/2 tsp. turmeric
pinch ground cayenne (optional – our little ones have always loved a bit of spice, but you can omit this if you prefer)
1/2 tsp ground cinnamon
2 cups of low sodium or homemade chicken broth
Place all the ingredients in a large saucepan.
Bring to the boil, then cover and simmer for one hour, adding more stock if the mixture looks too dry at any point.
If the lentils are still a little firm after an hour, simply continue to simmer until mushy, adding more liquid as needed.
Cool to a safe temperature and serve.
Pin It