There is so much good stuff in these nutritious little nibbles that we don't know where to start!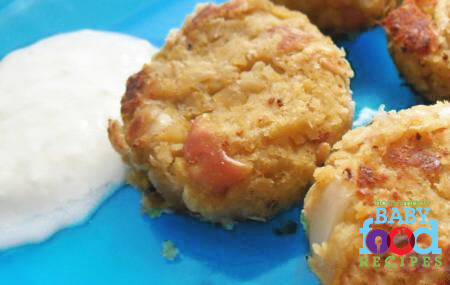 Just look at some of the ingredients and what makes them a great choice for your baby…
chickpeas (aka garbanzo beans) are packed with protein and also provide zinc, folate and iron
apples – especially with their skin left on – are a rich source of antioxidants and fibre
oats are a whole grain, supplying calcium, iron, protein and B vitamins
ground flax is rich in Omega 3 fatty acids and is a great immunity booster
And – if all that wasn't enough – this vegetarian-friendly recipe also makes use of the goodness of garlic and suggests using coconut oil, a wonderfully nutritious alternative to regular old vegetable oil (and a tasty one, too!).
The ingredients used in these nibbles are generally safe for babies from around 6 to 7 months of age, but they require a certain amount of biting and chewing, so they're ideally suited to babies who have already been introduced to – and are coping well with – finger foods. (They're super for Baby Led Weaning, too!)
That being said, the texture can be adjusted to suit YOUR baby. Pureeing all the ingredients thoroughly before moulding the mixture into the little patties gives a smooth texture which is relatively easy to gum. The nibbles shown in our photograph have a slightly coarser texture, because we chose to pulse the ingredients only briefly in our blender, rather than puree them to a completely smooth texture. They're still very soft, however, and easy to eat, with a slightly crunchy 'skin' on the outside. Yum!
Everyone in our house loves these nibbles, but if you plan on sharing them with your teeny tiny foodie, you might like to add a little salt to your portion of the mixture and keeping YOUR patties separate!
To Make Homemade Chickpea and Apple Nibbles for Baby You Will Need…

16 oz can no/low sodium chickpeas (or equivalent cooked from dried), drained
1/2 small onion, chopped roughly
1 small apple, grated*
1/4 tsp dried sage (this gives a very mild sage flavour – feel free to add more!)
4 tbsp oats, ground in a food processor (grind to a powder for a smoother result)
1 garlic clove, chopped
1 tbsp ground flax
1 tbsp coconut oil plus extra for cooking (you can use olive oil instead, if coconut oil is unavailable)
*We left the skin on our apple, then grated it with a coarse grater. This gets the maximum nutritional value from the apple, seeing as most of the nutrients are in the skin (the little fleck of red you see in the photo is a tiny piece of skin). After grating, squeeze the apple firmly over a glass. The resulting apple will have just enough moisture for the recipe – and the cloudy, delicious juice in the glass will remind you to ditch the processed store-bought apple juice and start juicing your own!
Place the onion, garlic and apple in a food processor and blend briefly.
Rinse the chickpeas, then add them to the blender along with the sage, ground flax and coconut oil. Process until combined.
Add the ground oats, a little at a time, until the mixture reaches the consistency you desire.
Using your hands, form the mixture into little bite size patties (or nibbles!) – we got 12 out of this mixture.
Heat a little coconut oil in a pan and add the nibbles. Cook for around 5 minutes on each side, until golden.
Cool to handling temperature and serve.
If you plan on freezing any of these, do so BEFORE cooking.
Serve the nibbles just as they are, with a topping or dip of applesauce or – our favourite – with natural yogurt (we add some fresh lemon juice to the yogurt for the grown ups – yummy!).
More creative chickpea baby food recipes
Tips for using flax in your baby food recipes
Pin It