Today we're going to share with you a very simple technique for cooking carrots that are unbelievably tasty and contain the benefits of one of our favourite ingredients – coconut oil!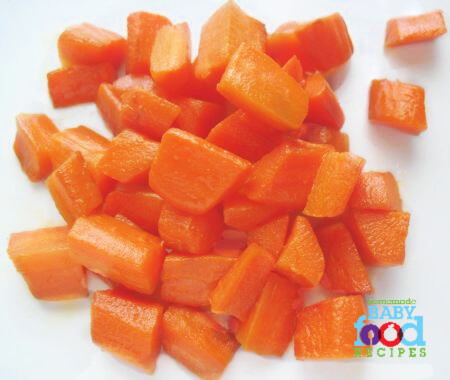 Coconut oil is a great source of Lauric acid, a fatty acid which is also found in breast milk and which, among its many qualities, helps provide immunity against infection. If you'd like to learn more about coconut oil, please see this post on our blog which discusses it in a bit more detail!
Carrots, of course, are a super food for your baby too, providing plenty of beta-carotene, which your baby's body converts to vitamin A.
So this simple carrot and coconut combo (suitable for 6 months of age+) packs a powerful nutritional punch – and your baby will love the sweet and tempting flavour!
You can use this simple cooking technique to prepare carrot dice as a finger food or for baby led weaning – the texture of the carrots is very tender and easy to gum. Alternatively, you can puree the carrots to a smooth texture, adding a little liquid if necessary to create the consistency you're looking for (try vegetable or chicken stock, formula/breast milk or just a little water).
To Make Coconutty Carrots for Baby You Will Need…
2 medium carrots (peeled if not organic)
1 1/2 tsp pure, virgin coconut oil
Cut the carrots into small dice (as shown) and place in a small saucepan.
Add the coconut oil and stir until the dice are coated.
Place the saucepan over a very low heat and cover.
Cook for 15 to 20 minutes, stirring every 5 minutes or so, until the dice are tender.
Cool to a safe temperature and serve.
You can sprinkle the dice with a little of baby's favourite spice if you like (cinnamon tastes great!), but they happen to be totally yummy just as they are and make a great side dish for the family's meal too.
Try more tasty carrot baby food recipes
Pin It