A smooth custard is a great food for baby – and oh-so-easy to eat! Delicious served warm or cold, it's a super-soft, slippery-slidey treat that your little one will adore! In fact, we've often turned to custard when our babies have had sore gums from teething, or even if they've had a sore throat and been reluctant to eat much else.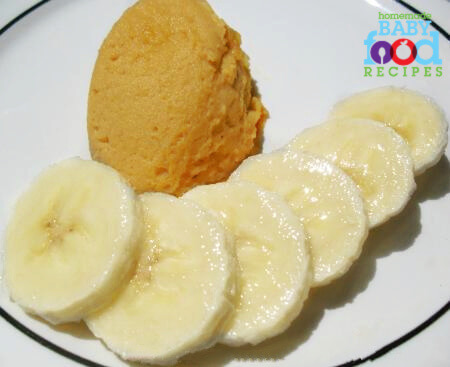 This custard recipe is almost foolproof and although it may take some time to cook in the oven, it requires very little 'hands on' cooking time.
This is one of those dishes where it's nice to have a supply of pre-prepared puree on hand. We often recommend cooking up a batch of purees ahead of time to save time when using recipes just like this (and with sweet potato, cooking ahead can be as simple as throwing a couple of sweet potatoes – in their skins – into the oven along with the rest of the family meal as it's cooking!).
This could also be a great way to use up sweet potato puree if your baby has started refusing purees altogether.
You can serve this Coconutty Sweet Potato Custard to your baby from 6 months of age, once he's been separately introduced to all the ingredients (please see this page for information about introducing eggs to your baby).
To Make Coconutty Sweet Potato Custard for Baby You Will Need…

4 oz (1/2 cup) sweet potato puree
1 egg
4 fl oz (1/2 cup) coconut milk
1 tbsp pure Maple syrup (optional – the dish is mildly sweet from the sweet potato)
drop vanilla extract
Preheat the oven to 325 deg F.
Simply place all ingredients in a blender and process until thoroughly mixed.
Pour the mixture into one small oven-proof dish or 2 ramekins.
Sit the dish or ramekins in a larger dish. Pour water into the large dish until it comes half way up the sides of your small dish/ramekins (you have created a 'bain-marie', also known as a water bath).
Place in the oven and bake for one hour until set. When done, the top will look slightly cracked (as shown) – although the photo gives the impression of a 'dry' surface, once you spoon out the custard you will find it velvety smooth!
Serve warm or chilled, with sliced banana, or top with banana puree.
You can keep any leftovers for up to 48 hours, but we don't recommend freezing this dish – it ruins the texture.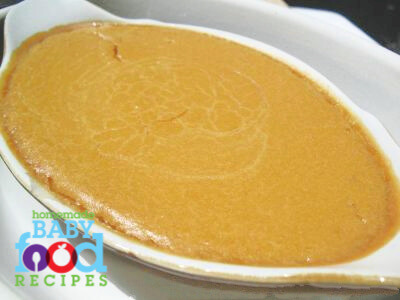 More delicious baby food recipes with eggs
More sweet potato baby food ideas
Pin It