We keep hearing 'end of summer this' and 'end of summer that'… but here in the Bahamas we're still sweltering away!
So for all those of you still 'enjoying' the heat – or all those of you who fancy a little taste of the tropics – we have a simple recipe for you today for a coconut and pineapple based puree which is at its best when served super-cold!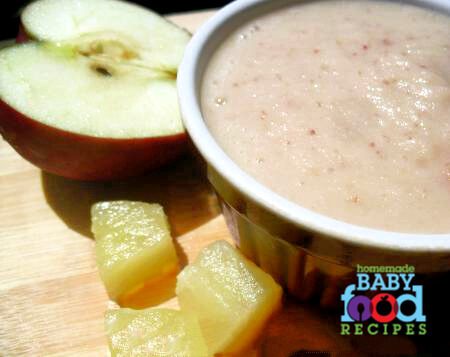 This recipe is ideal from 6 months of age and purees easily to a perfectly smooth texture. It also freezes well, so it's a great make-ahead dish – and it's just brimming with vitamins and minerals.
Your baby will LOVE this fruity feast!
To Make Baby's Coconut, Apple and Pineapple Puree You Will Need…
1 sweet dessert apple, cored and diced (we left the nutrient-rich skin on, hence the little pink flecks you see in the picture. Learn more about leaving fruits unpeeled in your baby food recipes…)
6 chunks of pineapple (canned in its own juice – learn more about introducing pineapple…)
5 fl oz (2/3 cup) pineapple juice (you can use the juice from the can)
1 small slice of watermelon, peeled and chopped
2 tbsp unsweetened coconut milk (learn more about introducing coconut…)
Place the apple dice in a small saucepan and pour in the pineapple juice.
Bring to the boil, then immediately lower the heat and simmer very gently, until the apple is tender. Allow to cool.
Transfer the apple mixture to a blender and add the pineapple chunks, melon and coconut milk.
Process until perfectly smooth and serve chilled.
Need more ideas for cooling baby on a hot day?
Try these healthy popsicle recipes!
Pin It