Have you ever watched your little one trying to pick up pieces of slippery food, like banana, peach or avocado? It can be pretty difficult – and doesn't your heart go out to him when he almost gets the food into his mouth… only for it to slide right back through his fingers?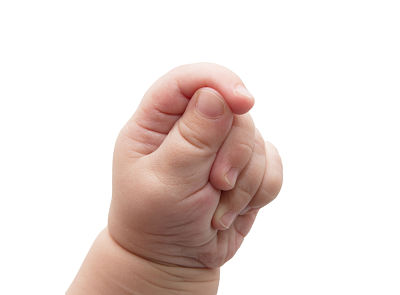 But you can make things a little easier for him! (This is a tip that appears on our finger foods page – but it's a good one, so we're repeating it here for those of you who might have missed it!)
Simply take the slippery food and cut it into bite-size pieces. Then roll the pieces in a healthy "coating". You can crush cereal into a powder to make a coating – or use the "dust" left at the bottom of the cereal bag (a great way to make use of something that usually gets discarded!). Make sure you choose a cereal that isn't loaded with sugar.
Alternatively, use wheat germ – a very healthy addition to your baby's diet. (Click here for more information about introducing wheat to your baby).
Hey presto – your baby's food is now easier for him to manage… and you've sneaked in a few extra nutrients in the process!
Pin It