This is a wonderful dish for so many reasons!
It uses super-nutritious lentils – packed with protein, calcium and iron – and is ridiculously easy to prepare, with less than 5 minutes of 'hands on' cooking time. What's more, it's a family friendly recipe – we like to add a little salt and spice and serve this as a side dish with the family meal.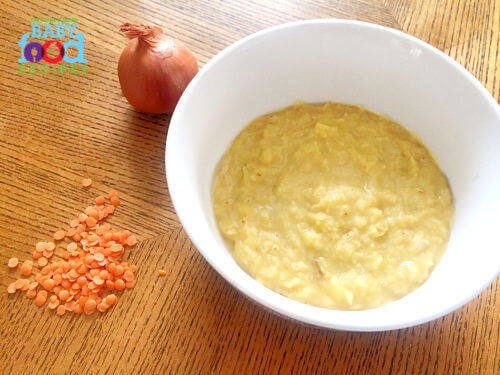 In terms of texture, this is a very versatile recipe – you can serve it 'as it comes' to provide soft, gummable lumps, or you can simply puree the entire dish if your baby likes his meals smooth.
This meal is suitable from around 7 to 8 months+, but if your baby has never had lentils before, we suggest introducing them separately beforehand. This is because lentils are notorious for causing gas (and not just in babies either!).
We discuss this in detail here, and share some tips for avoiding the problem
Here's what you'll need… 
little drop of olive oil
2 tbsp chopped onion
7 fl oz (just under 1 cup) water
1/2 cup red lentils
2/3 cup light coconut milk
1 small bay leaf
pinch of freshly ground black pepper (optional)
Warm the olive oil in a small saucepan and add the onion. Cook gently until soft.
Add the water, lentils, coconut milk and bay leaf. Stir well and bring to the boil.
Lower the heat as far as possible and cover the pan. Continue to cook for around 20 mins, until the lentils are soft and broken down, removing the lid and stirring often. If the mixture looks too dry at any point, add a little more water. The final dish should be creamy.
Remove the bay leaf and serve, adding a little black pepper if desired.
*Variation – stir in a little pureed carrot towards the end of the cooking time for added sweetness.
Learn more about using coconut in your baby food recipes
Pin It