Carrots are one of our favourite veggies to serve as a finger food. They're easy to prepare (you don't even need to peel them if they're organic!), they're a rich source of beta-carotene, they have a wonderfully gumm-able texture and they're naturally sweet, so babies tend to love them!
Today's recipe is perfect for the baby food connoisseur who is already enjoying cooked carrots and is ready for a little more flavour in his finger food. These carrot coins, made even sweeter by the apple juice, are not spicy, but have a warm and inviting taste that your tiny diner will adore.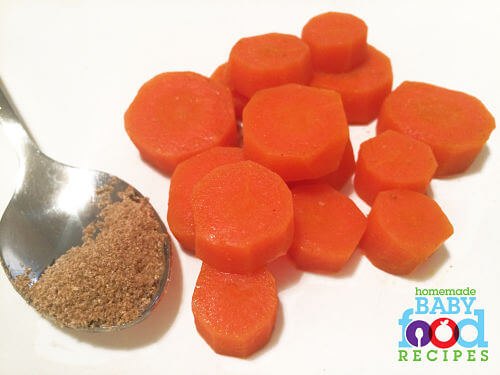 Ready in around 10 minutes, THIS is the perfect fast food for our little ones!
To Make Baby's Curried Carrot Coins You Will Need…
1 carrot, sliced (peel if not organic)
2 tsp canola oil
1 very small garlic clove, crushed (optional)
pinch ground cumin
pinch groung ginger
pinch ground coriander
pinch ground turmeric
4 tbsp unsweetened apple juice (more if needed)
Heat the oil in a small pan and add the garlic and spices. Cook for a couple of minutes, stirring.
Add the sliced carrot and cook for a couple of minutes more, stirring often.
Add the apple juice, cook for another 2 minutes, then lower the heat until the mixture is barely simmering. Cover and cook gently until the carrots are tender (5 to 8 minutes). Check occasionally to make sure the pan is not too dry – if it is, add a little more apple juice.
Cool until safe to handle, then serve!
Pin It