We've called today's recipe idea an 'Eggy Breakfast', but this delicious savoury baked egg dish would make a great lunch too! Containing the goodness of whole eggs, plus plenty of calcium-rich cheese, milk and nutritious whole grain bread, it's a wholesome and satisfying meal on a cold winter's day.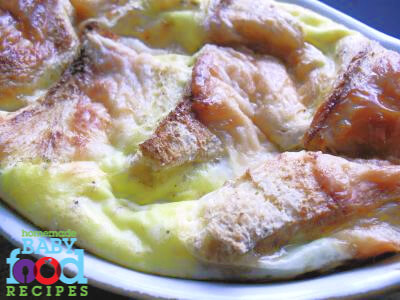 The following recipe provides a portion big enough for mom (or dad) and baby to share. If you plan to serve this for breakfast but don't feel like doing the preparation in the morning, then a good tip is to prepare everything the night before and leave it in the fridge overnight. That way, you'll only have the baking to do. We actually prefer this dish if it's been left to sit in the fridge for several hours, because the bread really absorbs the milk/egg mixture.
This is a very versatile homemade baby food recipe. Safe for most babies from 6 months of age, the texture is extremely soft, with a slightly crunchy surface (which you can easily remove for younger babies). It's a dish that you can feed to your little one with a spoon, but it also makes a fab finger food/baby led weaning food if you allow it to cool a little then cut it into bite-sized pieces.
To Make Easy Eggy Breakfast for Baby You Will Need…
2 slices whole wheat bread, crusts removed
2 oz Parmesan cheese, thinly sliced
2 eggs
2 fl oz (1/4 cup) milk – use whole milk, breast milk or formula
pinch freshly ground black pepper (optional)
pinch ground nutmeg
Preheat the oven to 325 deg F.
Cut each slice of bread into 4 triangles.
Lightly grease a small oven proof dish and layer the first four triangles along the bottom (see photo).
Top each bread triangle with a little slice of the cheese.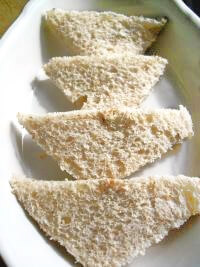 Arrange the remaining bread triangles on top of the cheese.
Whisk together the eggs, milk, black pepper (if using) and the nutmeg.
Carefully pour the mixture over the bread triangles, ensuring that all parts of the bread are moistened.
Allow to sit in the fridge for at least 30 mins.
Place in the oven and bake for 30 to 40 mins, until the eggs are set and the top is golden.
Cool and serve!
Try more of our delicious eggs baby food recipes
Find more breakfast ideas for baby
Pin It