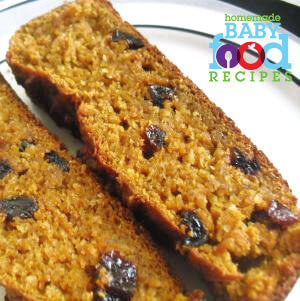 Mmm – there's nothing quite like warm raisin bread, straight from the oven, on a cold winter's day!
OK, so it's not exactly cold here by popular definition, but with temperatures in the late sixties/early seventies on our little island, we're REALLY feeling the chill and digging out our woolly socks!
It's funny how your thoughts turn to food when temperatures drop, but it was definitely the wintry weather that inspired the creation of this yummy raisin bread! Inspiration was also gained from the excessive supply of canned pumpkin in the local store. Put the two together and you get this rich, golden and nutritious treat that's deliciously moist and was a surefire hit in our house among young and old(er) alike!
It's very straightforward to make (a simple process of mixing wet and dry ingredients) and the slightly dense texture is perfect for little ones as it's very soft and 'squidgy'.
It's suitable for babies who are already confident with finger foods – including those doing baby led weaning – and it's a painless way to get them to eat up their veggies, providing lots of valuable beta-carotene!
This recipe produces one small loaf.
To Make Easy Raisin Bread for Baby You Will Need…
DRY INGREDIENTS
2 oz (1/2 cup) all purpose flour
1 oz (1/4 cup) toasted wheat germ
1 to 2 oz (1/8 to 1/4 cup) light brown sugar*
big pinch baking soda
pinch salt
1/2 tsp baking powder
big pinch allspice
3/4 tsp ground cinnamon
WET INGREDIENTS
1 egg
few drops vanilla extract
8 oz (1 cup) pumpkin puree (canned or homemade)
1 tbsp vegetable oil
4 tbsp raisins
*The raisins add quite a lot of sweetness, as does the pumpkin itself, so try to use as little sugar as you can. We found somewhere between 1/8 and 1/4 cup to be just the right amount.
Preheat the oven to 350 deg F.
Thoroughly mix all the dry ingredients in a bowl.
In a second bowl, stir together all the wet ingredients.
Combine the contents of both bowls and stir thoroughly with a wooden spoon until everything is well mixed (the mixture will be quite 'wet').
Empty into a small, greased loaf tin (we used 9″ x 5″) and bake for 40 to 50 mins until firm and golden.
Serve warm.
Share with baby and enjoy – we guarantee this will become a regular treat in your household, just as it is in ours!
More pumpkin baby food recipes
Why wheat germ is good for baby
Using raisins in your baby food recipes
Your guide to baby led weaning
Pin It