Canned salmon is a tasty and nutrient-rich food for baby – but it's not always easy to come up with ideas for how to serve it.
So today we thought we'd share with you our very simple – and very yummy – recipe for salmon quiche. It's a big favourite in our house, even with those family members who are not usually fans of canned fish! And it provides baby with a nice serving of calcium (from the fish AND the milk/cream) plus fatty acids from the eggs and salmon.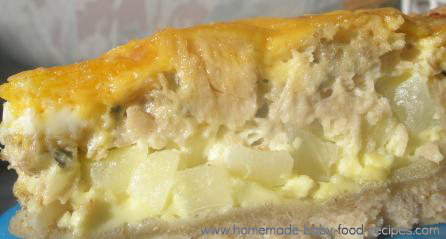 This recipe creates a finger food perfect for toddlers and for babies who are biting and chewing – although we have used this recipe when our babies were younger, too. We simply removed the crust and served the filling from a spoon – it's nice and creamy, with lots of soft 'lumps'.
This recipe uses whole eggs, so it's also important to ensure that your little one has been safely introduced to whole eggs before giving it a try (click here for more information about introducing whole eggs to your baby).
Quick Quiche Tips…
The easiest way to serve this as a finger food is to allow it to cool down a great deal before serving (we always think quiche tastes best barely warm anyway!). You'll find that the mixture becomes more 'set' and easier to handle. Chilled quiche is even easier for little fingers to pick up and makes a great snack on warmer days.
We like to make twice as much pastry as we need, then freeze the other half. That way – the next time we want to make a quiche – our preparation time is halved!
We like the richness of the cream in this recipe (and, of course, there's no need to limit the fats in baby's diet for the first two years of life). If, however, you'd prefer NOT to use cream, then use 4 fl oz (1/2 cup) milk mixed with 2 fl oz (1/4 cup) natural yogurt instead!
To Make Easy Salmon Quiche You Will Need…
4 oz (1 cup) whole wheat flour
1 tbsp wheat germ
2 oz (1/4 cup) unsalted butter, cubed
1 onion, peeled and chopped very finely
1 can salmon (pink or red), drained
3 eggs
6 fl oz (3/4 cup) half and half/single cream (see note above if you'd prefer not to use cream)
2 oz (1/2 cup) grated Cheddar cheese
Preheat the oven to 375 deg F (180 deg C).
Mix the flour with the wheat germ in a large bowl, then rub in the butter until the mixture resembles bread crumbs.
Add a little warm water and mix into the 'breadcrumbs' until you have created a pastry dough that you can gather into a ball.
Grease a 9 inch pie dish.
Roll out the pastry dough on a floured surface and use it to line the base and sides of the pie dish. NOTE: If you're not very good at rolling out pastry, never fear! You can simply put the ball of dough into the pie dish and press it into position with your fingers. It will taste just as good and no one will ever know!
Cover the base of the quiche with the onion, then cover the onion with the canned salmon. You might like to mash the salmon with a fork first as it can contain little pieces of bone which – though entirely edible and nutritious – would be better crushed for baby!
Whisk the eggs with the cream (or milk/yogurt mixture), then pour over the onion and salmon.
Top the quiche with the grated cheese.
Place in the oven and cook for 30 to 40 mins, until golden and set (the mixture should remain firm, even if you tip the pie dish to one side).
Cool and serve. Leftovers may be frozen for up to one month.
Variations: You can add fresh herbs that your baby enjoys to the egg mixture – dill suits this dish perfectly! You may also like to add finely chopped veggies – try cooked spinach, broccoli or zucchini!
You may even like to substitute the fish – this dish works equally well with canned sardines or tuna!
Please do let us know how YOUR little one enjoys this fabulous fishy quiche!
Related articles…
Fantastic fish baby food recipes
Bones in canned salmon – are they edible?
More yummy baby food recipes with eggs
Pin It