If you're looking for an easy way to get more nutritious brown rice into your little one, then this is it!
We don't just mean 'easy' in the sense that this recipe is quick to put together (although it is!), but we mean that it has an irresistible flavour that all of babies – and big kids – have adored. If you find that your little one doesn't particularly enjoy brown rice, then this sweet rice pudding – which would make a great dessert or a wholesome breakfast – makes a wonderful way to get him eating plenty of this healthy whole grain!
TIP: We like to cook up a batch of brown rice in advance, then divide it into portions to use as needed in this recipe. That way, it's easy to quickly prepare the dish for breakfast on busy mornings.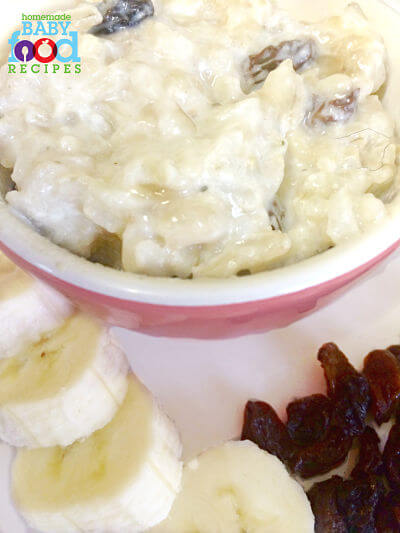 To Make Easy Stove-Top Brown Rice Pudding for Baby You Will Need…
8 oz (1 cup) cooked brown rice
4 fl oz (1/2 cup) milk*
1 heaped tbsp raisins
1/4 tsp ground nutmeg
1/2 small banana, mashed
*Use either whole milk, breast milk or formula. For extra creaminess, you can replace some of the milk with cream – soy milk also gives a nice creamy result!
Put the cooked brown rice into a small saucepan and pour in the milk/cream. Add the raisins and stir.
Bring to a boil, then immediately reduce the heat to very low and simmer gently for 5 mins. If the mixture looks too dry at any point, add a little more milk.
Remove from the heat and stir in the mashed banana and nutmeg.
Cool to a safe temperature and serve just as it is for older babies (enjoying texture), or puree until smooth for babies from 6 months (adding a little extra milk if needed).
This tastes yummy hot or cold, with all the sweetness coming from the fruit and NO added sugar!
More brown rice baby food ideas
Banana baby food recipes
Using raisins in your baby food recipes
Pin It