Today we have an easy recipe for you that combines three delicious ingredients – sweet potato, parsnip and pear. The result is a puree so sumptuously sweet and tempting that your little one won't even realize that he's eating veggies!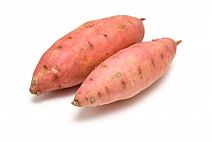 This recipe is ideal for babies from 6 months of age (or earlier if you are introducing solids before 6 months – please see this page for more information). All three ingredients are easy to digest, will puree to the perfect texture and are guaranteed to tempt even the pickiest eater!
Although we've used pear in this recipe, we've made it at home using the same quantity of apple instead, and it still tastes wonderful. So feel free to substitute if necessary!
To Make Easy Sweet Potato, Pear and Parsnip Puree For Baby You Will Need…
1 sweet potato
1 medium parsnip
1 small pear
pinch ground nutmeg
blob of natural yogurt (a thick natural Greek yogurt is particularly good!)
Peel the sweet potato and cut into 1 inch chunks.
Peel the parsnip and cut into thick slices.
Peel the pear, remove the core and chop roughly.
Place the sweet potato and parsnip into a saucepan and fill with water until it comes about half way to the level of the veggies.
Bring to the boil, reduce heat and simmer, covered, for around 10 mins, stirring the ingredients around from time to time.
When the veggies are almost tender, add the chopped pear and simmer for a further 4 to 5 mins.
Drain, reserving the cooking water, then transfer the ingredients to a food processor.
Add a pinch of nutmeg and blend to a smooth puree, adding a little of the cooking water if the consistency is too thick for your baby.
Serve with a blob of yogurt swirled in (optional – but we think it gives the dish a nice creaminess).
TIP: This puree freezes well, but DON'T thin any of the puree that you plan to freeze, as you may find the consistency too thin once it's thawed. You should also wait until you are ready to serve the puree before adding the yogurt.
Discover…
More sweet potato baby food recipes
More parsnips baby food recipes
Sweet potato and chickpea puree recipe
Pin It