Today's recipe for Sweet Potato Biscuits is virtually fool-proof! Our little ones have all loved this recipe because it tastes great… and WE love it because it's so easy to put together, with no rolling or cutting to worry about!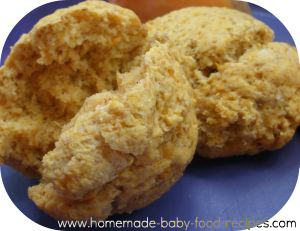 The sweet potato biscuits (or scones) this recipe produces are light and fluffy. You can try making them with ALL whole wheat flour – and omitting the all purpose flour – but we found them to be a little too dense and they weren't such a hit with baby!
Their flavour is kinda sweet – but it could go either way, meaning that they're great with savoury toppings (like cream cheese) or fruit (a little fruit preserves, for example).
Our little ones' favourite way to enjoy them, however, is warm from the oven and spread with absolutely nothing at all!
To Make Easy Wheaty Sweet Potato Biscuits You Will Need…
3 oz (3/4 cup) whole wheat flour
3 oz (3/4 cup) all purpose (plain) flour
4 1/2 tsp baking powder
1 tbsp brown sugar*
3 tbsp butter
1 medium sweet potato, peeled, diced and steamed until tender
2 to 3 fl oz (1/4 to 1/3 cup) milk
3/4 tsp nutmeg
3/4 tsp cinnamon
*The brown sugar is not absolutely essential and can be omitted if you prefer – however, it's quite a small quantity of sugar in comparison the amount of biscuits produced. We find it vastly improves the flavour if the sweet potatoes we're using in the recipe are not particularly sweet to begin with.
Preheat the oven to 375 deg F (180 deg C).
Mash the sweet potato thoroughly.
Combine the flour, baking powder, nutmeg, cinnamon and brown sugar (if using) in a bowl.
Add the butter and rub it into the flour between the fingertips, until the mixture resembles breadcrumbs.
Mix in the mashed sweet potato.
Stir in the milk, a little at a time, until the mixture forms a soft dough.
Here comes the easy part – using your hands, pull the dough into small pieces, roll into balls between your palms, then flatten slightly. We make between 15 to 18 little balls.
Sit the balls side by side (not touching) on a greased baking sheet.
Bake for 10 to 15 mins, until risen golden and firm.
Cool to a safe temperature and serve to baby (and to other family members in the queue which probably formed whilst the biscuits were baking!).
These biscuits make a deliciously healthy finger food or are ideal for baby led weaning. Do let us know if your baby (and you!) enjoyed them!
More sweet potato baby food recipes
Pin It