You will sometimes see magnesium listed as a nutrient in some of the foods discussed on our website. But have you ever wondered just what magnesium is – and how it is used by your baby?
Magnesium is actually an essential element of the human diet – we can't make it ourselves, so we have to obtain it from food.
It is used throughout the body – mainly to keep the bones strong, but also to help the muscles function effectively. In addition, magnesium is needed for hundreds of chemical reactions throughout the body and helps protect against disease and infection.
Research has shown that magnesium may also be helpful for adults with asthma.
Most adults don't consume enough magnesium. Whilst they may not necessarily display symptoms of magnesium deficiency, medical experts worry that it means that many of us have low stores of magnesium. And it's the magnesium stored by the body that helps support our immune systems and protect us from disease.
So – as we are setting the foundation for a lifetime of healthy eating for our little ones – it's a good idea to make sure that their diets contain lots of magnesium-rich foods. That way, they will learn to appreciate and enjoy these foods now and likely continue to do so in the future – ensuring that their stores of this valuable nutrient stay plentiful as they grow!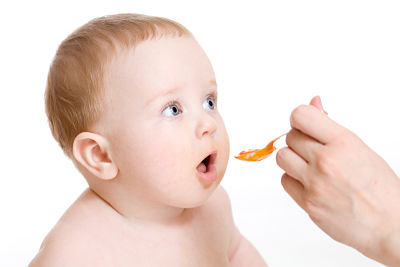 Good sources of magnesium for your baby include
dark, leafy greens (which contain magnesium-rich chlorophyll) – spinach and kale are great sources
blackstrap molasses
Because magnesium is only present in most foods in relatively small amounts, there is no one particular food you should rely on to supply your baby's magnesium – instead, aim to offer him a diet that includes a variety of fruits, vegetables and grains.
Avoid refined foods – whole grains, for example, have twice as much magnesium as refined grains because the majority of the nutrient resides in the germ and the bran – layers of the grain that are stripped away during processing.
And – as always – keep the cooking time of fruits and vegetables to a minimum, because magnesium is water-soluble and overcooking will greatly reduce the magnesium content of the food.
NOTE: Don't offer your baby magnesium supplements – or any other dietary supplements – unless recommended by your child's doctor. Babies have difficulty in excreting excess magnesium – whilst this is not an issue with magnesium obtained through food, it is possible to give your baby too much magnesium in supplementary form.
For more information about magnesium, visit…
The National Institute of Health
More information on our site about…