As our summer temperatures continue to soar, we're always looking for new ways to help our little ones keep their cool. So yesterday we whipped up some very healthy – and absolutely delicious – frozen yogurt, an idea inspired by one of our readers.
Jean from Surrey, England wrote to us over the weekend and described how she had frozen some Greek yogurt for her baby (it's hot in England too at the moment!) and that it had a nice, creamy texture.
If you've never tried Greek yogurt before, then you're really missing out on a treat! It's far creamier than regular yogurt, thanks to the straining process it undergoes during production, which removes the watery whey.
On the down-side, Greek yogurt is usually made from whole milk (sometimes with cream added), so its fat content is high. But whilst this may be a negative aspect for us adults, it's no reason to withhold it from your baby who (enviably!) NEEDS whole milk and fats.
The fat content also makes for a good texture when Greek yogurt is frozen. It tends to remain relatively creamy, whereas most other types of yogurt – particularly low fat yogurt – can become quite hard and grainy. This is because they contain MORE water and LESS fat than Greek yogurt and, of course, the water freezes and becomes ice!
Sadly, Greek yogurt isn't available on our little island, but we DID manage to get our hands on some after a visit to the 'mainland' this week. So here's what we made with it – a cool treat that we all enjoyed…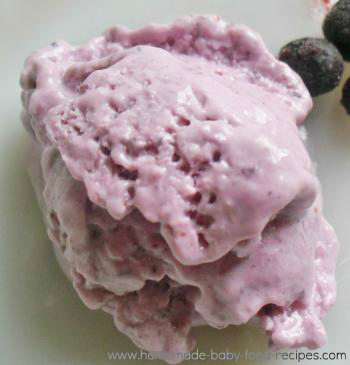 Frozen Banana and Blueberry Yogurt for Baby
2 cups Greek yogurt
1 large, ripe banana
1 cup fresh blueberries
1/2 tsp vanilla extract (optional)
Place all the ingredients in a blender and puree until smooth.
If you have an ice cream maker, then freeze the yogurt according to the instructions. If – like us – you DON'T have one, then…
Pour the mixture into a freezer proof container and freeze for one hour.
Remove from the freezer and beat thoroughly with a wooden spoon, until all the semi-frozen yogurt is incorporated into the mixture.
(Note: Beating the mixture is an important step – it gives you a smoother result).
Return the mixture to the freezer and continue to beat it every 45 minutes or so until completely frozen (ours took 4 hours).
You may prefer to add some form of sweetener – however, we found the sweetness from the really ripe banana to be sufficient.
Enjoy with your little one!
More blueberry baby food recipes
How to make your own yogurt
Pin It