Once your baby has been introduced to carrots and pears, then here's a great recipe for introducing just a little spice! The ginger in this dish doesn't make it 'hot' – instead, it adds a fragrant warmth that's both subtle and delicious.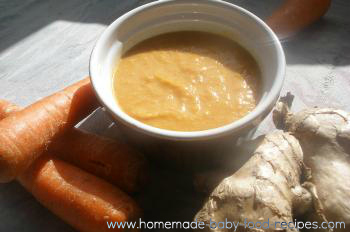 Both carrots and pear can be introduced to your baby from 6 months, or earlier if recommended by your pediatrician. Easy to digest, they pair up to make a sweet, mild tasting puree that's suitable from baby's very first tastes of solids.
After checking with your doctor, you might like to try introducing this recipe from around 6 months. Our little ones have always enjoyed foods made with a touch of ginger and sources including the Bastyr Center for Natural Health suggest that it's a great aid to digestion, making it an intriguing ingredient for use in your baby food recipes!
To Make Ginger Infused Carrot and Pear Puree You Will Need…
1 medium carrot, peeled (if not organic) and diced
1/2 pear, peeled, cored and diced (we used Comice)
1/2 inch peeled ginger*
2 fl oz (1/4 cup) of homemade chicken stock, apple juice or water
* You can 'turn up the heat' in this recipe depending on the way you use the ginger. For an extremely subtle flavour, just add the whole piece of ginger to the pot, then remove it before pureeing (it should be easy to find as it doesn't really break down during the cooking time). For a slightly more robust effect, crush the ginger a little before adding it, but – again – take it out of the mixture before you puree it. For a strong ginger flavour, use around 1/4 inch instead and either chop the ginger extremely finely before adding it to the pot, or crush it in a garlic press to extract the juice.
Place the diced carrot and the ginger in a small saucepan and pour in the liquid. Use chicken stock if you prefer to give the dish a more savoury twist, or apple juice for a sweeter flavour.
Bring the carrots to a boil, then immediately lower the heat.
Simmer, covered, for around 6 to 8 mins, until the carrots are tender.
Uncover the saucepan, add the diced pear and replace the lid.
Simmer for several more minutes, until the pear is soft.
Remove the ginger if necessary.
Transfer to a food processor and puree until smooth, or blend in the saucepan using a hand blender. Add a little more of the liquid if you wish to achieve a thinner consistency.
Store in the fridge for up to 48 hours, or in the freezer for up to one month.
TIP: If you like to have a ready supply of ginger on hand to use in your recipes, here's what to do…
1. Peel a large piece of root ginger.
2. Slice, then place in a food processor with a little water.
3. Blend until smooth.
4. Transfer to a zip top bag and place in the freezer, allowing the ginger to spread out so that it freezes in a flat strip.
5. Break off pieces as you need them!
More carrot baby food recipes
More pear baby food recipes
Can babies eat spicy food?
Pin It