Mommies and daddies in the US and Canada – we have a new giveaway starting today and ending in exactly one week!
The prize?
Five of these fabulous Tuckaroo Bibs, which are designed to keep baby cleaner than ever! What's more, there will be not one but TWO winners, so we have 10 bibs to give away altogether!
Why Tuckaroo Bibs Are a 'Must Have' Feeding Accessory
Tired of stained collars?
Then you'll love the Tuckaroo, which is the FIRST bib we've come across that features an inner flap that tucks inside baby's collar, completely encasing it and protecting it from stains and wetness. It has a water resistant layer so liquids from bottles, food or teething don't soak through.
Another great feature, which is hard to find these days, is the metal snaps instead of Velcro. This eliminates the problem of bibs in the dryer sticking to – and pilling – other clothes.
The Newborn Tuckaroo is a unique strapless design. It makes sense because there really is no need to strap a bib around the neck of a newborn. All you need to do is tuck the inner flap inside baby's collar and after breast or bottle feeding, simply slide the newborn bib out of baby's shirt leaving clothes clean and DRY! The newborn Tuckaroo extends onto the shoulder to catch any spit ups that may run down the sides of baby's mouth and guards against protein based stains (e.g. formula stains) that are difficult to get out and are the reason why baby's clothes may yellow after months of storage.
This simple, but very clever bib will reduce loads of laundry, eliminate the need to pre-treat collars and will allow you to pass clothes down STAIN FREE!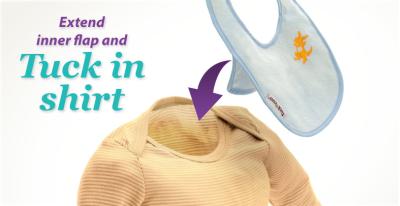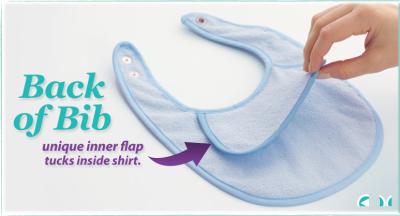 You can check out these cool bibs at www.TuckarooBibs.com (newborn, infant and toddler sizes are available).
How to Win 5 Tuckaroo Bibs for YOUR Little One
Two winners will EACH receive five of these great bibs.
To be in with a chance of winning this fabulous prize, here's what you need to do:
Simply visit Tuckaroo Bibs, and click 'Like' at the top of the page, to like Tuckaroo's website on Facebook.
PLEASE NOTE: This giveaway is only open to residents of the US and Canada. The prize can only be shipped to a US or Canadian address.
The contest will close at midnight on March 11th when a winner will be chosen at random.
You can increase your chances of winning by doing any or all of the following…
1. 'Like Us' on Facebook. Leave an extra comment here on our blog to let us know!
2. Share this post on Facebook – just click on the Facebook icon below then leave an extra comment to say you've done so (we'll verify this with you if you win)
3. Post a link to our blog on your sidebar or blog roll for TWO extra entries – just leave two comments below with a link to where it appears
4. Blog about this Giveaway with a link to this post for THREE extra entries – just leave three separate comments below with a link to your post.
5. Tweet about this giveaway! Just copy and paste the following tweet and comment with the link to your tweet:
Win 5 Innovative Tuckaroo Bibs via @Recipes4Baby #giveaway. Visit http://blog.homemade-baby-food-recipes.com/?p=4949
If you're chosen as a winner, we'll notify you by email within 24 hours of the close of the contest – so please remember to leave your email address when you enter!
Good luck everyone!