Here's a delicious sweet potato recipe for all those baby food connoisseurs out there!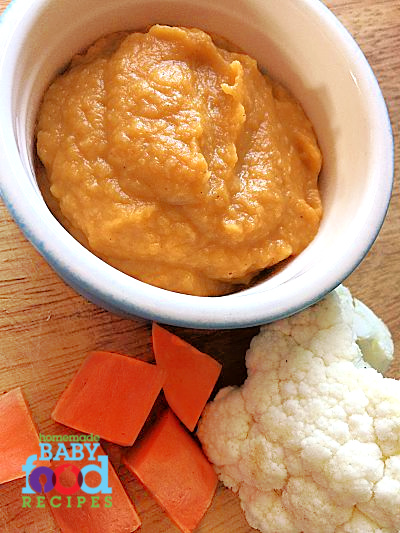 Babies everywhere love the taste of nutritious sweet potato and basic purees are easy to prepare for baby food beginners. Simply baking a sweet potato in its skin and then mashing or pureeing it is the simplest and most popular method.
But today's puree recipe contains a few extra elements, making a truly yummy dish that the grown ups will enjoy, too (just increase the quantities accordingly and serve as a side dish with chicken or pork).
Please make sure that your baby is safely enjoying all the ingredients in this recipe before combining them in this dish.
Here's what you'll need… 
1 large sweet potato (around 7 oz)
4 oz (1/2 cup) cauliflower florets, chopped
2 tsp vegetable oil
1/2 small onion
pinch of ground allspice*
pinch of freshly ground black pepper
3 fl oz (1/3 cup) homemade chicken stock
* Allspice is the dried, unripe berry of an evergreen tree and originally came from Jamaica. It is known as allspice because it's said to combine the scents of several spices, including cloves, nutmeg, cinnamon and pepper!
Peel and dice the sweet potato and chop the onion.
Heat the oil over a medium heat and saute the onion with the pepper until tender.
Pour in the chicken stock, then add the allspice and the diced sweet potato.
Bring to the boil, then cover, lower the heat and simmer gently for 15 mins.
Add the cauliflower and simmer, covered, for a further 10 mins, adding a little more stock if the mixture seems dry.
Cool slightly, then transfer to a blender and puree until smooth. Yum!
To learn more about sweet potato and to find out what makes it such a great food for your baby, visit our Sweet Potato Baby Food page.
Pin It