Today we're deviating a little from the topic of baby food recipes, to tell you a quick and easy way we've discovered to get the sand off your baby after a visit to the beach.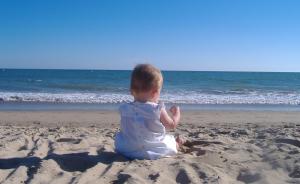 Despite having lived in the Bahamas for seven years (or probably because of it), we can't stand sand!
It gets in your shoes, in your food during picnics by the sea, but – worst of all – it gets stuck all over your little ones, causing irritation when it's caught in their little folds of skin. It also gets transferred from quickly from hands to mouths… and getting the sand off before you can get home to the bath tub can be nigh on impossible!
So we were intrigued last week when we came across a product called a Powder Pouch, designed specifically for removing sand from the skin. We checked it out and discovered that it's simply a pouch that you fill with a type of baby powder – the idea is that you rub it against the skin and the sand miraculously drops off.
So then we got to thinking… was the pouch itself really necessary? Why not just cut straight to the powder?
That's just what we did on a visit to the beach this weekend and it works WONDERFULLY. All you need to do is rub a handful of powder into your little one's skin – it instantly dries up the dampness that's causing the sand to cling to him in the first place, so the sand really does drop right off!
We love easy and frugal solutions to niggling problems, but this has to be one of our favourites as it's so very effective! We've since discovered this was already a secret among surfers (one which we wish they'd already shared with us parents!), but we thought we'd post about it anyway today in the hope that it saves YOU from some of the stress associated with taking baby to the beach!
For more top tips for travelling with baby…
Our main guide to travelling with baby
Flying with baby food and milk
Pin It