Now, as a rule, we try to make our baby food recipes as quick and easy as possible. This one, however, is a little more time-consuming. BUT BEFORE YOU CLICK AWAY consider this… these samosas are mouthwatering-ly delicious – so much so, that everyone in the family will enjoy them.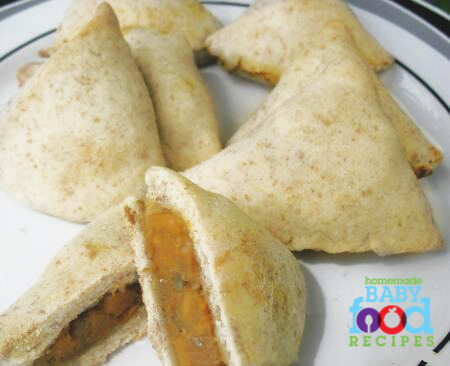 But samosas can't be healthy for baby… can they?
Well, they can when they are stuffed with nutritious sweet potato and peas, wrapped in a coat of wholesome whole wheat pastry, then baked in the oven instead of fried!
Yes, the good news is that these samosas are both nourishing AND totally tasty. They're also great served hot or cold, ideal for travel and the perfect finger food for babies already biting and chewing.
This recipe makes 8 samosas.
To Make Healthy Baked Sweet Potato Samosas for Baby You Will Need…
For the pastry:
2 oz (1/2 cup) all purpose flour
2 oz (1/2 cup) whole wheat flour
1 tsp baking powder
2 oz (1/4 cup) butter
cold water for mixing (we used three tbsp)
Combine the two types of flour with the baking powder in a bowl.
Rub in the butter until the mixture resembles breadcrumbs.
Add cold water, one tablespoon at a time, mixing well, until you can bring the mixture together into a ball (we needed three tablespoons – you may need a little more or less).
Place in the fridge whilst you make the filling.
For the filling:
little canola oil
1/2 medium onion, chopped
1 clove garlic, crushed
1 small sweet potato, peeled and diced
2 fl oz (1/4 cup) low sodium or home-made vegetable stock or chicken stock, or water
1 tsp curry powder (this gives a relatively mild curry flavour – increase or decrease as your baby's tastes dictate)
one heaped tbsp frozen peas (no need to thaw first)
Heat the canola oil in a small saucepan and add the chopped onion. Cook, stirring, for a few minutes until softened, then add the crushed garlic and the curry powder. Cook, stirring often, for 2 mins more.
Add the sweet potato dice and the frozen peas to the pot, then pour in the stock. Bring to the boil.
Immediately lower the heat, cover, then simmer gently for 15 to 20 min, stirring occasionally, until the sweet potato dice are tender.
When done, the liquid should have pretty much all been absorbed into the mixture – if it looks runny, cook the several minutes longer, uncovered. If the mixture is runny, you'll end up with soggy samosas!
Mash lightly, then set aside.
To assemble the samosas:
Note: This may not be a 'proper' samosa-making technique (the pastry circles are usually cut in half), but we found it easier to do it the way we describe below and our 'cones' were more manageable. Really, though, it's not too important to wrap the filling 'perfectly' – any way you devise of containing the filling with in the pastry, in an easy-to-hold 'package', will work just fine!
Our method:
Divide the dough into 8 balls.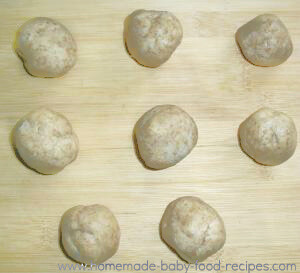 Flatten each ball, then sprinkle with a little flour and roll out – we initially got ours to a diameter of around 4 to 5 inches.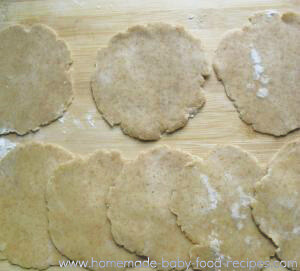 To make the circles even thinner, we find the easiest method is to sprinkle one circle with flour, place another one on top, then roll the two out together. This is also a time-saving technique! Afterwards, just pull the two circles carefully apart (which should be easy if you used flour to stop them sticking).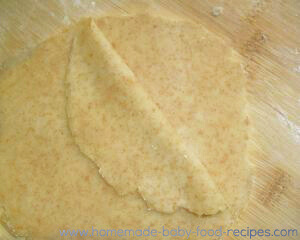 Ours were now around 7 inches in diameter.
Fold each circle into a semicircle.
Fold in one side of the semicircle, then fold the other side over that, to create a 'cone'.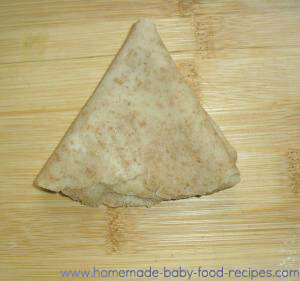 Fill the 'cone' around 3/4 full with the sweet potato filling – then, simply squeeze the pastry together to seal the end (ours stuck easily – if yours doesn't, moisten the edges first with a little water. This probably isn't quite the 'right' technique either – but hey, it gives them a nice 'homemade' look!).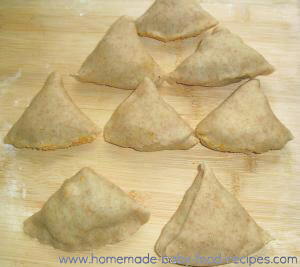 Place on a lightly greased baking sheet and spray with a little cooking oil.
Bake in an oven preheated to 375°F for 15 to 20 mins, until pale gold in colour.
Cool and serve.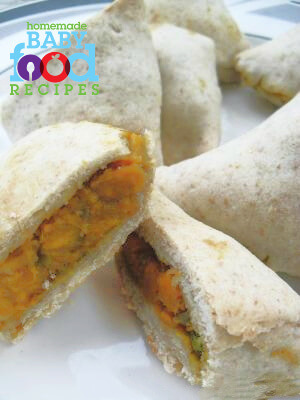 Leftovers may be refrigerated for up to 2 days.
If you want to freeze some samosas to use in the future, we recommend doing so AFTER you've assembled them, bu BEFORE you cook them. This means you can bake them as needed, giving your pastry a better texture when you serve it.
If your little one (and you!) enjoy this Healthy Baked Sweet Potato Samosas recipe, please spread the word by clicking the 'like' button below!
Pin It