This recipe is SO easy it's virtually foolproof – so if you avoid baking for your baby because you think you'll make a mess of the dish, please do give this one a try!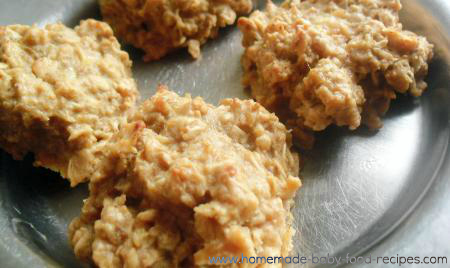 These Oaty Banana Bites contain all the goodness of whole grains (in the rolled oats), plus all the wonderful added nutrients of wheat germ and banana.
Their texture is sort of 'squidgy' on the inside and a little harder on the outside, so they're suitable for babies who are already competently feeding themselves.
They happen to be suitable for all other family members too, as ours will happily confirm!
The recipe shown here DOES contain some sugar – so these are best given as a treat, or cooked without sugar at all (they're still quite sweet, thanks to the banana and apple juice!).
Enjoy!
To Make Healthy Drop Cookies for Baby You Will Need…
2 oz (1/2 cup) all purpose (plain) flour
2 oz (1/2 cup) wheat germ
4 tbsp unsalted butter
6 oz (1 1/2 cups) rolled oats
2 oz (1/2 cup) brown sugar
1/4 tsp nutmeg
1/4 tsp cinnamon
1 large, ripe banana, mashed well
4 tbsp apple juice
Preheat the oven to 375 deg F (180 deg C).
Mix the flour with the wheat germ in a bowl.
Using your fingertips, rub the butter into the flour/wheat germ mixture until thoroughly combined.
Stir in the oats, sugar (if using) and the spices.
Next, stir in the mashed banana and apple juice and mix everything together – you should be left with a thick, sticky mixture.
Drop the mixture – one generous teaspoon at a time – on to a greased baking sheet (we get around 20 teaspoons out of this recipe).
Bake in the oven until golden (around 10 minutes).
Best served warm. You can freeze these (if you have any left – we never do!) – but we recommend warming them a little before serving!
Try more healthy baby food recipes using oats…
Pin It