No, this isn't a message we received from a visitor to our site – it was actually something that happened to OUR little one last week!
We decided to share the story and solution here, in case you ever find yourself in the same unfortunate (and panicky!) predicament.
Our youngest family member – Joe – is now two years old and last week we gave him a bowl of one of his favourite snacks… dried blueberries.
He was happily eating away, when all of a sudden he started rubbing his nose and saying 'burning'. At first we couldn't think what he meant – then the nasty suspicion dawned on us that perhaps he'd somehow managed to get one of those blueberries up his nose.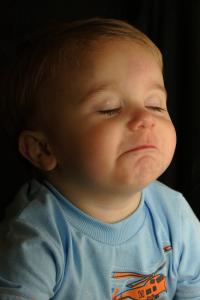 We had a look and there was nothing to see – we even felt the outside of his nose to see if we could detect the bulge of a berry underneath… nothing!
But after about 15 minutes we noticed the tell-tale sign of an object lodged in the nose – the nostril on that side was running (you don't have 5 kids without picking up a trick or two!).
Now we were concerned.
For one thing, we knew that the berry up his nose (was he smelling it? – we'll never know!) was dried.
This meant that it would slowly begin to rehydrate… and grow larger!
The other problem was that we live on a very small island, with just one little medical clinic – and the only nurse was off the island that day.
We knew better than try to poke anything up Joe's nose – the danger with doing that is that you can push the object further up.
We also knew that an object lodged in a child's nose – funny though it may sound – is actually a serious matter that needs to be dealt with.
We tried getting him to sniff pepper to make him sneeze and he DID sniff the pepper, but showed a remarkable tolerance to it by not sneezing once!
So then we searched for a solution online, but the main consensus seemed to be that the force of a sneeze was definitely required to shift the berry.
Some sites suggested encouraging the child to simply blow really hard through the affected nostril, but Joe was simply too young to understand what we were trying to get him to do.
Then – thank goodness – we came across this page from emedicinehealth.com, which states
A parent or caregiver can attempt to remove the object by sealing their mouth over the child's mouth and closing the unaffected nostril with their fingers. Blowing a quick puff of air into the child's mouth has frequently resulted in the object coming out the nostril
The purpose of our post today is to tell you that this marvellous piece of advice works wonderfully!
It took just a second or two, the berry practically flew out of Joe's nose and the emergency was over – no traumatic trip to the hospital on the mainland required!
Of course, if you live near a medical centre then the prospect of seeking medical assistance may not be as daunting as it was for us that day – but we still think this is a handy tip to be aware of should your little one ever get the urge to sniff a dried blueberry or try to discover what other objects his little nostrils will accommodate!
NOTE: This post is not intended to replace medical advice – please speak to your doctor if you are concerned that your child may have any object lodged in his nose.