In general, you don't need to go out of your way to offer particularly high calorie baby foods to your little one.
For his first year of life, his breast milk or formula should meet all his nutritional requirements and encouraging him to consume more calories than he actually needs may lead to him drinking less milk. It can also lead to potential problems with excess weight gain.
However, there are certain situations where your pediatrician may suggest that you include more calorie rich foods into your baby's diet.
This is quite often the case where baby has infant reflux – and the amounts that he is consuming (and keeping down) are very small.
Alternatively, your baby may have other feeding difficulties that necessitate very high calorie foods, or your pediatrician may feel that he needs extra calories to aid in his recovery from an illness.
Calorie rich foods are also sometimes recommended for low birth weight or premature babies to allow them to 'catch up' in terms of nutrition.
If you've been given such a recommendation by YOUR little one's health care provider, then you may be wondering exactly how to make your baby's food richer in calories, yet still healthy and nutritious.
Here are some easy ideas to try…
High calorie baby foods
Avocado – Feeding your baby avocado is one of the best ways to boost his intake of calories. It's highly nutritious, packed with healthy fats and very easy to prepare. Try serving it straight from the skin, or pureeing/mashing it in a bowl with a little breast milk or formula. Try mixing it with other foods like tofu or banana, using it as a creamy dip for soft fruits or cooked veggies, or even as a spread for bagels or pieces of toast!
Cheese – There are lots of great ways to incorporate cheese into baby's food – and fortunately, many babies love it! Try adding grated cheese to cooked veggies (it may even provide your baby an incentive to eat them if he previously refused them), stir into scrambled eggs (yolks only for the first year), use it to top cooked pasta or stir it into mashed potato.
Full fat cream cheese – This can be used to top toast or bagels or as a sandwich filling. Try stirring it into cooked veggies or  mix it with pureed fruit and serve as a surprisingly good dip!
Oils/butter – Use olive oil for cooking or – better still – stir it directly into baby's food (it tastes wonderful in all sorts of veggie purees).  Serve baby's veggies tossed in a little unsalted butter and stir it into mashed white/sweet potato. Add flaxseed/linseed oil to baby's food (but note that this isn't suitable for cooking and should be kept in the fridge).
Whole (full fat) milk – Make sure that all dairy products your little one consumes are made with whole milk.
Cooked egg yolk – Not only is it high in calories, cooked egg yolk helps with the development of your baby's brain. It's a very versatile ingredient that can be used  to thicken baby food purees, or crumbled straight into soups and stews.
Wheat germ – Highly nutritious, wheat germ makes an excellent addition to baby's diet. It can be used to top almost ANY food (whether savoury OR sweet), stirred into purees or cereal, used to coat slippery finger foods or stirred  into smoothies.
Recipes and more information about these high calorie baby foods…
Avocado
Cheese
Olive oil
Coconut oil
Whole milk and fats
Eggs
Wheat germ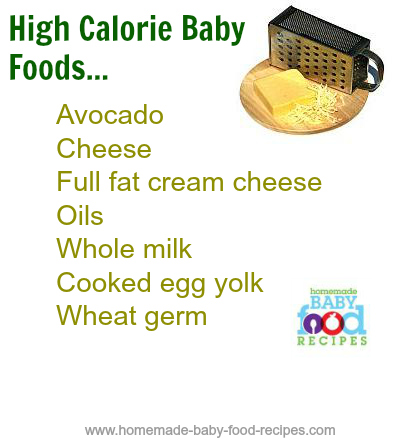 Pin It