Do you shy away from making your own bread because…
You think it's too time consuming?
You think it's too difficult?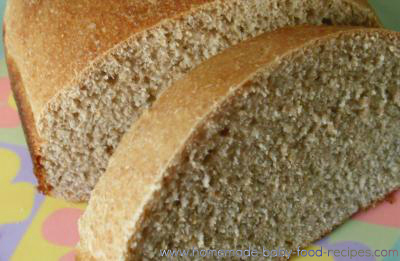 Then we urge you to try out the recipe we've just added to our site – it's very easy to make. And – whilst the total preparation time may be a few hours – very little of that time is actually spent DOING anything… except waiting for the dough to rise!
We love making our own bread – nothing you can buy from the store tastes quite like the bread you can make at home. Admittedly, we don't make ALL our own bread – with five children we'd be baking round the clock! But we like to bake a loaf whenever we can and it becomes a real family affair, as the older children enjoy checking on the dough as it rises and we all enjoy the delicious aroma wafting from the oven as it bakes!
The recipe we've just added uses a mixture of whole wheat and white flour, providing a lighter bread containing the goodness of whole grains. As we explain within the article, you can replace more of the white flour with whole wheat until you produce a loaf that's perfect for YOUR family.
You can see our new whole wheat bread recipe here
Bread, bagels, scones and biscuits
Now you're in the mood to bake for baby, here are some more tasty ideas to try…
Sweet potato bread
Spiced pumpkin scones
Whole wheat carrot biscuits
Whole wheat bagels