Chapati is a type of traditional Indian flatbread that's REALLY easy to make and the perfect accompaniament for baby's homemade curries.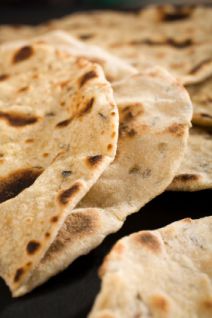 Chapatis (sometimes known as chappatis or rotis) are made of whole wheat flour and are a type of 'unleavened' bread, which simply means that they do not contain yeast or any other leavening agent, so they do not rise. If you'd like to make yours really authentic, look for chapati flour in your local Indian grocery store and use it in place of the wheat flour listed in our recipe.
Chapatis are usually rolled up into a sort of 'cone' shape, to make it easier to scoop up runny curries. But they can also be torn into smaller pieces by baby and used to 'dip' into the curry sauce left over in his bowl. You're not JUST limited to curries, though, and can serve chapatis with anything your baby likes!
To Make Baby's Homemade Chapati You Will Need…
4 oz (1 cup) whole wheat flour
4 fl oz (1/2 cup) water
Mix the flour with enough of the water to make a firm dough. Knead the dough well (for AT LEAST ten minutes) , then pop it into a greased bowl, cover and set aside for one hour.
Divide the dough into four balls. On a floured surface, roll out each ball until it is about 6 inches across. Alternatively, you can divide the dough into more balls, to make smaller, baby sized chapatis!
Heat a cast iron frying pan, skillet or griddle, then cook the chapatis (without oil) for about 30-45 seconds on each side.
There – we told you they were easy!
But don't skimp on the kneading – it's important to do it properly or you might find your chapatis tear apart too easily!
Here are some nice curry recipes from our site to serve with your yummy homemade chapatis…
Sweet Potato and Coconut Curry
Butternut Squash and Chicken Curry
Indian Baby Food Recipes 7 months+
Indian Baby Food Recipes 10months+
Pin It