We have two homemade baby food recipes in one for you today, which you can either use together or serve separately!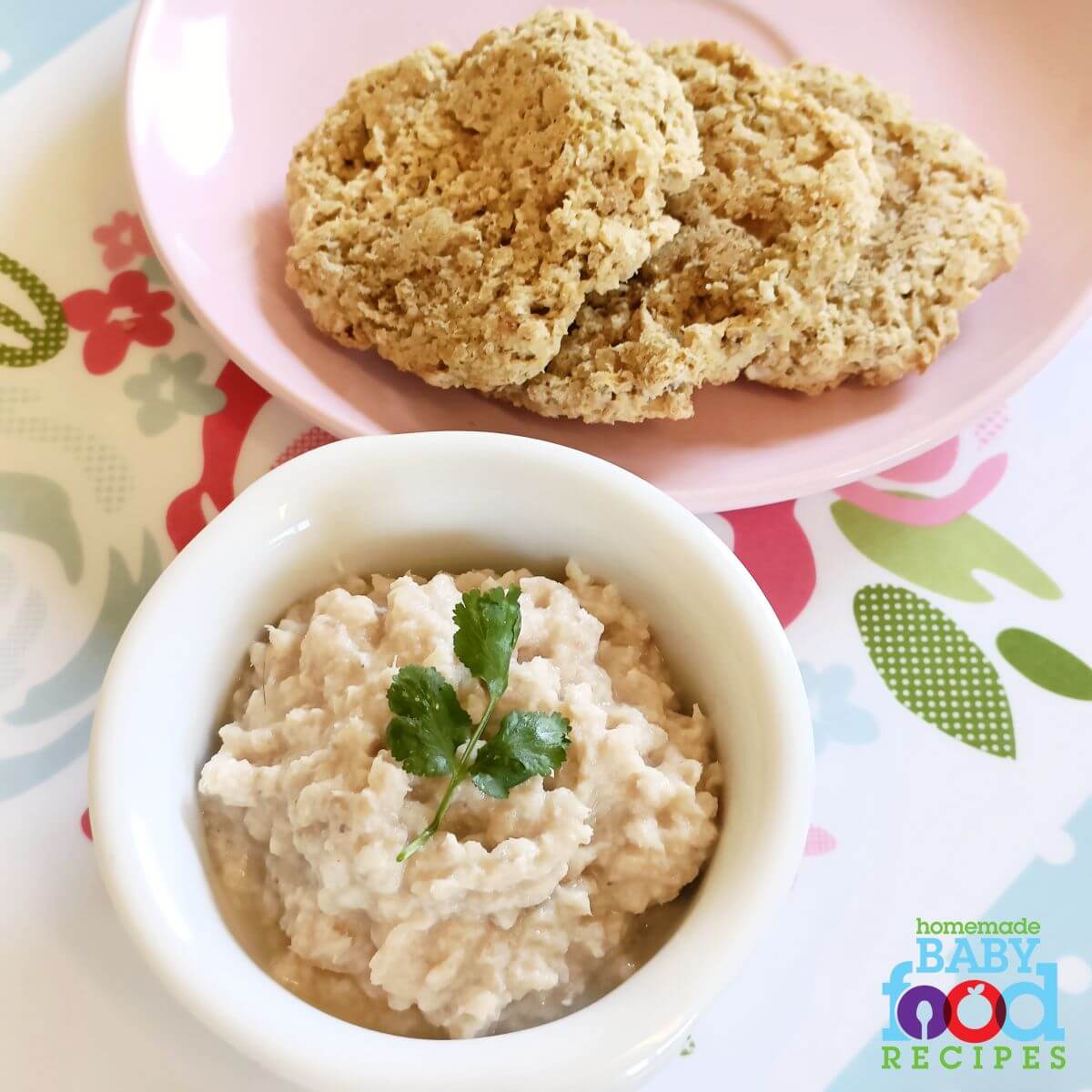 Homemade oatcakes are super simple to make and provide an interesting alternative to bread or bagels as a base for spreads or toppings. They're also useful for babies who need to follow a wheat free diet. Wholesome and satisfying, they provide your baby with the many nutrients of whole oats, including protein, B vitamins, iron and calcium.
Homemade oatcakes are ideal for older babies (at least 10 months+), coping well with texture and comfortably biting and chewing (this is important to note, as they do NOT melt in the mouth and are unsuitable for younger babies).
In this recipe, we've paired our oatcakes up with a creamy and delicious salmon spread. The creaminess of this spread works wonderfully with the slight crunch of the oatcakes… and the flavour combination is mouthwatering!
The spread – suitable from around 7 months – could, instead, be served with bread or bagels as a sandwich filling or toast topper. Our little ones also love it as a topping for a baked potato! It's an excellent source of calcium (provided both by the salmon AND the natural yogurt used in the recipe) and is a great way to tempt your baby to eat more oily fish – a super source of essential fatty acids.
To Make Homemade Oatcakes with Creamy Salmon Spread for Baby You Will Need…

For the oatcakes…
4 oz (1 cup) oats
pinch baking soda
1 tsp unsalted butter
boiling water
Preheat the oven to 375 deg F.
Mix the oats and baking soda in a bowl. Add the butter.
Stir in enough boiling water to make thick paste and mix well (we used around 2/3 cup). The mixture should be thick enough to form into shapes.
Using your hands, shape into small cakes – this recipe gave us 7 oatcakes, somewhere between 1/4 to 1/2 inch thick. The thinner you make them, the crispier they are – ours were crunchy on the outside, but softer in the middle – the way our little ones prefer them!
Place on a greased baking sheet and bake until crisp and golden (around 20 mins).
Serve whilst still warm.
For the creamy salmon spread
7 1/2 oz can pink salmon
1 tbsp unsalted butter
1/2 celery rib, chopped
3 spring onions (also known as green onions or scallions), chopped
1 bay leaf
2 fl oz (1/4 cup) apple juice
pinch nutmeg
1 1/2 tbsp natural yogurt
Melt the butter in a pan.
Add the celery and scallions. Saute gently for 5 mins.
Remove the veggies with a slotted spoon and discard (they don't appear in the final recipe but add a rich flavour).
Add a bay leaf to the pan and pour in apple juice. Boil for about 8 to 10 mins until the liquid is reduced to a tbsp or so.
Crush salmon thoroughly with a fork.
Discard the bay leaf, then add the liquid to the salmon, along with the nutmeg and natural yogurt. Mix well (you can puree this mixture if you prefer).
Serve with the oatcakes, or chill for later use.
Learn more about using oats in your baby food recipes
More fabulous fish baby food recipes
Pin It