When your baby is teething, all he'll want to do is chew… and there are plenty of teething biscuits out there designed to meet this need. The problem with most commercially made teething biscuits, however, is that they contain undesirable ingredients (including sugar) – and they tend to be expensive.
So the best option – as always! – is to make your own. But if making your own teething biscuits sounds a little too much work, never fear!
We'll show you how to make fantastic, hard and VERY economical teething biscuits in just 90 seconds!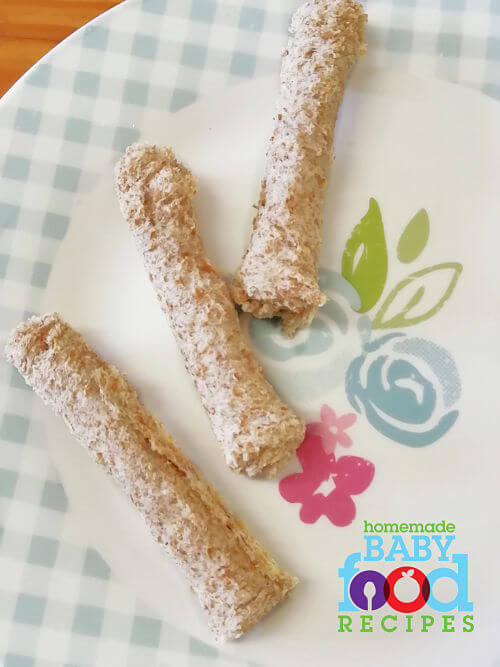 All you'll need is:
1 slice of whole wheat bread (avoid bread containing large seeds, as these may present a choking hazard)
1 knife
1 microwave
Take your slice of bread and cut off all the crusts.
Roll the bread up as tightly as you can into a tube shape. This works best with moist, fresh bread, but is a little more difficult if your bread is a couple of days old.
If the bread won't stay in a tube shape, insert a little wooden skewer or toothpick into either end.
Place on a napkin and put in the microwave.
Cook on high for one minute.
Take out of the microwave and immediately remove skewers/toothpicks (if you leave them in whilst the bread stick cools, they'll be almost impossible to get out!).
Cool.
And voila – your teething biscuit is ready!
If it feels just a little moist when you remove it from the microwave, you should find that it hardens completely when cool. These teething biscuits stay hard in an airtight container for 2 to 3 days.
When can I offer these to my baby?
Unfortunately, there's no clear cut answer to this question, as all babies are different and will be developmentally ready for teething biscuits at different times.
As a rough guide, however, our youngest is now 7 months old and enjoying one of these on a daily basis!
They are very hard and do not break up easily – and he is attacking them with the six teeth he already has! Because they require a good deal of gnawing to break up, the pieces he gets into his mouth tend to be very soft and soggy – however, it's important to keep a careful eye on your baby as he eats these teething biscuits, just in case he manages to bite off a larger chunk.
If you're in the UK, Australia or any other part of the world that has access to Marmite (we get friends from the UK to bring us some when they visit!) then you could spread the piece of bread with it VERY thinly before you roll it up, for a little extra flavour. But it's really not necessary and these healthy teething biscuits are a hit in our household just as they are!
More homemade teething biscuit recipes from our site…
And don't miss…
Our guide to baby finger foods
Pin It