Wraps (flour tortillas) make a fun finger food for older babies – and did you know that it's actually VERY easy to make them yourself?
With just five ingredients, this recipe couldn't be simpler to put together. Free of unnecessary additives, these wraps taste better than the ones you buy in the store… (and cost less too!).
The beauty of this simple recipe is that you can customize it to suit your baby. It calls for whole wheat (wholemeal) flour, which gives a great flavour and texture. But you can use all purpose (plain) flour if you prefer, or – as a gluten-free option – quinoa flour. You can even incorporate herbs that your baby enjoys.
To Make Homemade Wraps for Baby You Will Need…
1 cup of whole wheat flour
1/4 tsp salt
1 tbsp extra virgin olive oil
1/2 tsp baking powder
warm water
Stir the flour, baking powder and salt together.
Add the olive oil and 1/4 cup of warm water.
Mix together, then continue to add warm water – a little at a time – until you can bring the mixture together into a dough (this is easiest if done with your hands).
Knead the dough for 10 mins (this is the point at which 90% of babies decide they require attention 😉 ).
Cover with a damp tea towel and leave for 2 hours.
Divide into 4 pieces and roll into balls.
Flatten each ball, then roll out as thinly as possible on a lightly floured surface. (Don't use too much flour or it will make your mixture too stiff). If you're not an expert at rolling, console yourself with the thought that your baby doesn't know tortillas should be round!
Just one more step – heat a dry frying pan/skillet (no oil) and cook each wrap for 30 seconds on each side.
They are now ready to serve – and you can freeze any leftovers for another day.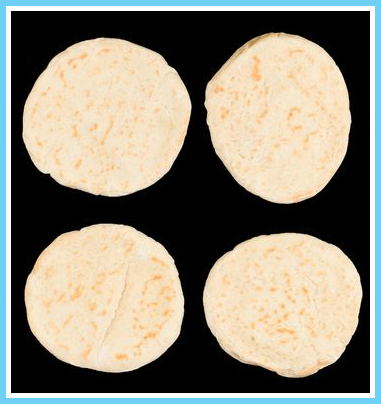 Looking for a yummy filling for your homemade wraps?
Check out our recipes for homemade hummus!
Pin It