If you were asked to name all the nutrients your baby needs for healthy growth and development, the one you might forget to mention is zinc!
Whilst we're all familiar with the importance of vitamins and minerals like vitamin C and iron, we don't tend to hear as much about zinc – yet it's an essential nutrient that has many important roles throughout the human body.
Please note: this information is meant as a guide and does not replace professional medical advice. Please speak to your doctor to discuss your baby's particular requirements.
Why does my baby need zinc?
The body uses zinc for many functions essential to good health and growth. The problem is that the body doesn't store significant amounts of zinc, so it needs to be regularly supplied by the diet.
A diet rich in zinc…
Supports your baby's immune system and protects him from infection… including the common cold. With flu currently a concern for many parents, making sure our babies receive adequate zinc is a simple and natural way to boost their immunity.

Helps your baby's body quickly repair damage like cuts and scrapes.

Keeps your little one's skin healthy.

Supports your baby's growth and the development of his brain.

Helps his body more easily absorb other nutrients from his diet.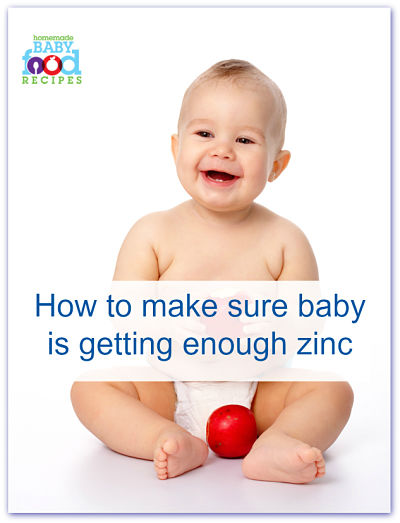 Which are the best sources of zinc for my baby?
The best dietary sources of zinc tend to be the typical 'protein' foods. Red meats – particularly lamb, beef and liver – are very rich sources of zinc (you can read more about introducing meat to your baby here). The dark meat of chicken is another good source and is higher in zinc than the white meat.
If your baby is on a vegetarian diet, then it is important to make sure he receives zinc from other dietary sources, as those on a meat-free diet may be more likely to be deficient in zinc.
It's also a good idea to note that you can boost the amount of zinc that your baby absorbs from these foods by serving them with a food rich in vitamin C (the easiest way to do this is by serving fruit with every meal).
Other sources of zinc include…
wheat germ (a particularly rich source and one that's easy to incorporate into your baby's diet)
whole wheat cereals
other whole grains (check out our Baby Oatmeal section for more ideas). Please note that refined grains are stripped of the majority of their zinc content
peas and beans
chickpeas/Garbanzo beans
yeast
asparagus
You can also enhance the flavour AND the zinc content of your baby's food by adding basil or thyme, both of which contain this valuable nutrient.
Do remember when preparing food for your baby that zinc – like many other nutrients – may be depleted by excessive cooking (particularly boiling). Keep cooking times to a minimum and make a point of steaming vegetables for your baby when possible or boiling in a VERY little water.
Sources:
Office of Dietary Supplements – Zinc
Zinc is essential for brain development and function
Lentils: a whole food for increased iron and zinc intake
Zinc in Vegetarian Diets
More baby nutrition articles…
Pin It