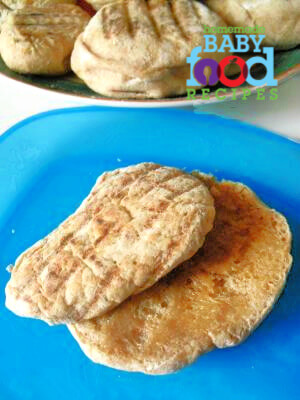 Whilst reviewing some of the recipes on our site recently, we noticed that – although we have a few muffin recipes – we don't yet have one for English muffins! And that's a mistake because (in our opinion) there are few things quite as yummy as a warm English muffin, buttered and topped with whatever takes your fancy!
I must admit that we don't always make our own muffins – but they really are worth the extra effort! All our children have loved English muffins, from as soon as they could bite and chew up to the present day! So here's a recipe that will soon have you making your own – we're sure they'll be a big hit with your family, too!
To Make Your Own English Muffins You Will Need…
This recipe makes 12 standard muffins.
2 fl oz (1/4 cup) warm water
1 package (2 1/4 tsp) of dry yeast
1 tbsp sugar
8 oz (2 cups) whole wheat (wholemeal) flour (plus extra if needed)
4 oz (1 cup) white flour
1 tsp salt
8 fl oz (1 cup) of milk
3 tbsp vegetable oil
1 egg
Dissolve the yeast and the sugar in the warm water and leave for 10 mins, by which time the mixture should look frothy.
In one bowl, combine the flour with the salt. In a separate bowl, combine the milk, oil and a beaten egg.
Add the frothy yeast mixture to the other liquid ingredients.
Combine the wet ingredients with the dry ingredients and mix thoroughly.
Lightly flour a work surface and turn out the dough. Knead it thoroughly for 10 mins. If the mixture seems too soft, add more flour until you can work with it without it sticking to your hands.
Oil the sides of a clean mixing bowl and place the dough inside.
Turn it over several times to ensure that the surface of the dough is covered in oil.
Cover the bowl with a clean tea towel and set aside in a warm room for 45 mins to one hour, until it has doubled in size (if your room is not particularly warm, try placing the bowl in an unlit gas oven – the pilot light alone raises the temperature sufficiently to help the dough rise).
With your hands, shape the dough into a thick sausage.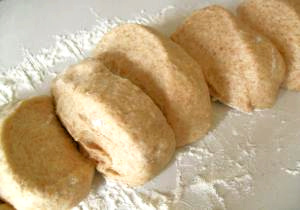 Slice along its length at 1 1/2 to 1 3/4 inch intervals (as shown). You should get around 12 slices.
Lay these slices on their cut sides, which now become the tops and bottoms of the muffins.
Cover the muffins once again with the clean tea towel and leave in a warm place for a further 30 mins.
Transfer the muffins, one by one, on to a hot griddle and cook for about 4 minutes on each side until golden brown.*
Allow cooked muffins to cool completely.
Finally, split each muffin and toast them… and they are now ready to serve!
*The griddle should be dry – don't add any type of oil. If you don't have a griddle, a regular heavy frying pan will work too. You will need to experiment with the heat – if it's too hot, the muffins will begin to burn on the outside. You want them to develop a golden colour over the entire 4 minutes per side, as it takes this long for the dough to cook inside. They feel fairly firm when they're cooked.
Enjoy!
More tasty breakfast ideas for baby
Pin It