We received a message this week from Marissa in Maryland, USA, who was struggling to make an easy-to-eat meal for her baby using pork.
I often buy pork butts because they're economical but they always come out tough when I use them in my homemade baby food. Do you have any tips for cooking them so they will be tender?
We certainly do – in fact, we cook them quite often ourselves, for the same reason as Marissa – they're cheap (something you can't say about many ingredients here in the Bahamas!).
The way to cook pork butts perfectly – not just for baby but for the rest of the family too – is to cook them LOW and SLOW!
Our technique requires around 4 hours of cooking time in a very low oven. For that reason, it's a good idea to cook a batch for the entire family along with baby's portion, making the best use of the extended cooking time and power usage.
Don't let the sound of 4 hours of cooking put you off! That's not 'hands on' cooking time… it's time you can simply leave the meat in the oven, allowing all that lovely flavour and texture to develop.
To cook deliciously tender pork butts for the family…
Separate a piece of the pork butt for baby and place it in a small oven proof dish. Put the rest of the family's portion in a larger oven proof dish.
Cut a few slits in each piece of meat and insert halved cloves of fresh garlic. This is optional, but it really infuses the pork with wonderful flavour.
Cover baby's portion, place in the fridge and leave for about an hour. Sprinkle the larger portion with plenty of Worcestershire sauce, then cover and place in the fridge with baby's share.
When the hour is almost up, start preheating the oven to 425 deg F.
Remove both portions of meat from the fridge and pour in apple juice until it almost reaches the level of the pork. For the family portion, we like to sprinkle the surface with some brown sugar and press firmly.
Cover both dishes with foil, seal and place in the oven. Immediately turn the heat down to 200 deg F.
Cook for about 4 hours until the meat – quite literally – falls apart.
Season with freshly ground black pepper before serving – the adults may require a little salt!
Remove the garlic cloves and the fat (it's easy to just pull off and discard) and shred the meat with a fork – it's incredibly tender and absolutely wonderful!
Making a meal for baby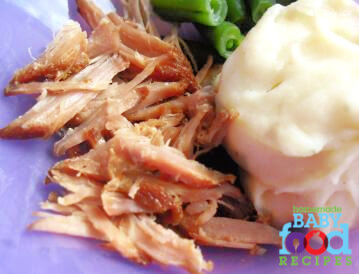 About 30 minutes before the end of the cooking time, place a few slices of peeled, cored apple on top of the pork.
Whilst the pork is cooking, prepare some simple mashed potato.
At the end of the cooking time, mash the cooked apple into the potato. Shred the pork with a fork, then serve the pork and potato with cooked green beans. This makes a sweetly savoury meal with a very soft texture – but if your baby isn't ready for lumps yet, it purees easily.
Optional extra – apple gravy!
If you're having difficulty in getting your baby to eat meat, adding a sauce can really help by providing a smooth base for those soft little lumps!
This apple gravy is delicious and we've used it successfully with both pork and chicken…
2 tsp unsalted butter
1/4 small onion, chopped finely
1/2 clove crushed garlic
pinch of dried thyme
pinch of freshly ground black pepper (optional)
3/4 tsp flour
4 fl oz (1/2 cup) apple juice
2 fl oz (1/4 cup) homemade chicken stock
Melt the butter in a small pan and saute the onion with the garlic. Add the thyme and black pepper (if using) and cook, stirring, for about 5 mins until the onions begin to turn golden.
Add the flour and cook, stirring, for a further minute.
Gradually stir in the apple juice (don't stop stirring or lumps will form!).
Bring to a boil, then stir in the stock.
Reduce the heat to a simmer and cook, stirring often, until thick.
Find out more about including meat in baby's diet…
Pin It