Have you ever thought of pureeing beans for your baby? They're surprisingly good, especially with the additions included in our recipe below!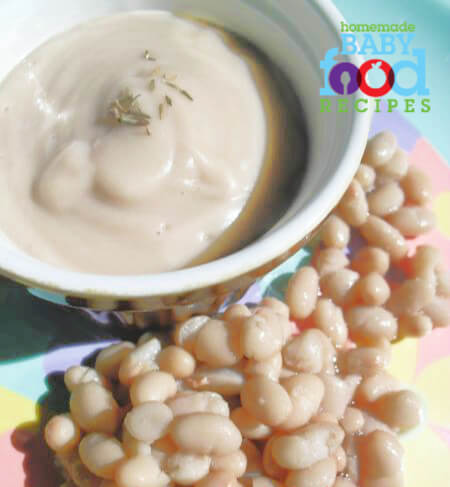 The natural 'mushiness' of the beans means they're just perfect for making a puree and the addition of a little liquid (in this case, vegetable stock) gives the dish a wonderful creamy texture your baby will love!
We make this puree in larger batches to serve alongside the family meal as a side dish and sometimes stir chopped, cooked meat into our baby's portion to create a more complete meal. You could even try reducing the amount of stock used in the recipe, thereby creating a thicker texture that's perfect spread on toasted bagels or in little sandwiches for your baby.
You can either make the puree using dried beans (which should be cooked according to the directions on the packaging) or canned beans – but if you are using the canned variety, make sure they are salt-free or – at the very least – low sodium and then rinsed thoroughly before use.
This recipe is ideal for babies from around 7-8 months, provided that they have been separately introduced to all the ingredients beforehand. You can, of course, omit the garlic and onions if you prefer, for a milder tasting dish.
To Make Pureed Beans For Baby You Will Need
4 oz (1/2 cup) cooked cannellini, navy or haricot beans
2 tbsp chopped onion
1 small garlic clove, finely chopped
2 tsp olive oil
pinch fresh thyme, chopped
2-3 tsp homemade vegetable stock
Saute the onion and garlic in the oil for a few minutes until tender and just beginning to turn golden in colour.
Stir in the beans, vegetable stock and thyme. Cook gently, stirring occasionally, for 5 mins.
Transfer to a blender and puree until smooth, adding a little more broth if the texture is too thick.
Serve warm as a main meal or cool for use as a dip or spread.
Lentil baby food ideas
Green bean baby food ideas
Making baby food with canned fruits and vegetables
Pin It