Well, we're back after hurricane Irene and – thankfully – the family is safe and well. Our little island sustained some damage and we lost a small part of our roof, but things could have been a lot worse and we're delighted that our power and internet services have been restored so quickly, allowing us to stay in touch with you!
If you, too, were affected by Irene we hope you and your families are well and that your homes made it safely through the storm! And if you were without power for any period of time – or if you're in a stormy area where power outages are frequent – please do check out our Baby Food Storage page, which has lots of tips for ensuring your little one's food is safe to eat.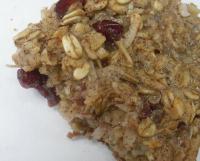 Stocking up on food supplies to last the duration of the hurricane and its aftermath without power was a challenge – but one thing we all enjoyed were these oat bars that we originally posted to our blog last year. We often make them to take out and about as they don't need to go in the fridge. Ideal for everyone from older babies/toddlers all the way through to the adults, they make a really healthy snack and they're super simple to prepare!
More herbs, less salt
We're back here just in time to tell you that today is a special day – yes, it's 'More Herbs, Less Salt Day'!
No, we didn't make it up… it's a real day designed to encourage all of us to consume less salt and find healthier ways to enhance the flavour of our food. For babies, of course, it's extra important as too much salt can be harmful (here's why).
So today is the perfect time to check out our page – Can Babies Eat Spicy Food? – which discusses how to include herbs, spices and garlic in your little one's diet.
If you're already adding aromatic spices and herbs to your baby's meals, please do leave your comments and tell us which ones your little one particularly enjoys!