These lentil nuggets are easy to make and make a very nutritious finger food for babies feeding themselves. Lentils are an excellent source of protein, calcium, vitamins and iron and this dish is a unique and interesting way to include them in your baby's menu!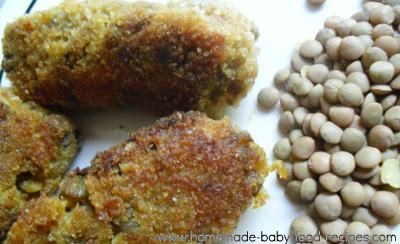 To Make Baby's Lentil and Sweet Potato Nuggets You Will Need…
4oz (1/2 cup) cooked lentils, thoroughly drained (you can use red if you want them very 'mooshy' – we used green for a little more texture!)
2oz (1/4 cup) cooked sweet potato, mashed
2 egg yolks
1 tsp unsalted butter (softened)
1 garlic clove, crushed
2 tbsp fresh parsley, chopped finely
pinch freshly ground black pepper
flour
whole wheat breadcrumbs
olive oil
Combine the lentils and sweet potato in a bowl and mash together thoroughly (or mash the lentils lightly, then stir into well mashed sweet potato if you'd like more texture).
Stir in one egg yolk, butter, garlic and parsley.
Form into around 8 nugget shapes and chill for 20 minutes.
Beat the second egg yolk. Dip each nugget into flour, then into the egg yolk and finally into the breadcrumbs, making sure they are well coated.
Fry in olive oil until golden brown on all sides, then cool and serve.
Mmm – healthy nuggets that taste delicious! They have a wonderfully soft texture inside and are ideal from 8 to 10 months+.
Note: If you want to freeze these, do so BEFORE cooking them. We actually prefer to freeze them before breading them too!
More lentil baby food ideas here!
Pin It