On Monday we posted a simple recipe for a sweet potato puree for baby food beginners… and we promised another recipe this week using sweet potato.
So today we're sharing with you a finger food (or baby led weaning) recipe that uses this nutritious ingredient in an entirely different way!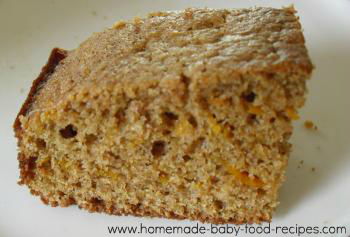 The title of our post really sums up why we love this particular recipe! This bread is absolutely delicious – plus it's so easy to make it really requires no baking expertise at all, so don't be afraid to give it a go if baking isn't really your forte!
This bread is ideal for babies and toddlers who are comfortably feeding themselves. The texture is extremely soft, which makes it very easy to eat or to 'gum' if necessary. It contains the goodness of whole grain wheat flour and the vitamins/beta-carotene provided by the sweet potato… although it does also contain some sugar, so it's best viewed as an occasional treat rather than a daily staple! You can, however, cut the amount of sugar used back to half a cup or less if you prefer; the resulting bread will retain some sweetness from the applesauce and sweet potato.
To Make Baby's Sweet Potato Bread You Will Need…
4 oz (1/2 cup) applesauce (try making your own with sweet dessert apples)
4 tbsp oil
2 eggs
4 oz (1/2 cup) unflavoured natural yogurt
6 oz (3/4 cup) soft brown sugar
1 small sweet potato, peeled and grated (should equal around 1 cup)
8 oz (2 cups) whole wheat flour
1 tsp baking soda (bicarbonate of soda)
1 tsp baking powder
1 tsp ground cinnamon
1/2 tsp ground nutmeg
1 tsp salt
Preheat the oven to 350 deg F, 180 deg C.
Thoroughly grease a 9″ baking pan.
Take two bowls. In the first bowl, mix the applesauce, oil and eggs with the yogurt, sugar and sweet potato.
In the second bowl mix the flour, baking soda, baking powder, spices and salt.
Mix the wet ingredients with the dry ingredients, then pour the mixture into the baking pan.
Bake for around 20 to 30 mins, or until golden brown (when done, a toothpick inserted into the middle of the bread should come out clean).
We hope that you (and your little one) enjoy this recipe – please do let us know if you liked it as much as we do!
More sweet potato baby food recipes
Homemade whole wheat bread recipe
Pin It