Today we have a meatloaf recipe for your little one that's packed with so much good stuff we call it a 'meal in a meatloaf'!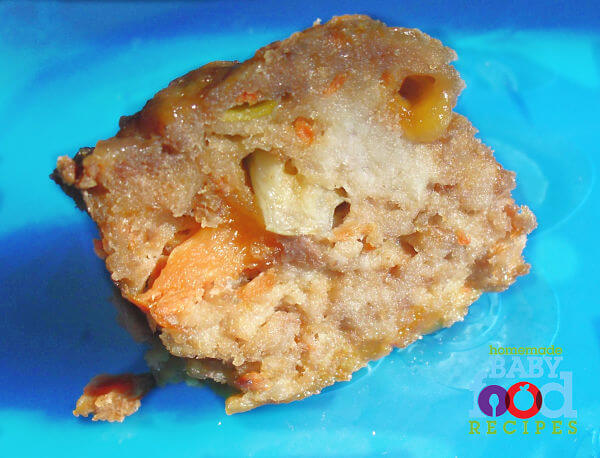 With the fall-apart, easy-to-eat texture you expect from a meatloaf, this delicious dinner idea contains all the goodness of two types of meat – beef and pork – plus veggies, eggs, grains (from the whole wheat bread crumbs) and calcium-rich cheese.
Once prepared, you can try serving the meatloaf mashed together with mashed potato, or you can allow it to cool and serve it as a finger food. Either way, your little one will love it and it makes a great way to get a lot of nutrients into one juicy bite!
Ideal from around 7 to 8 months, this recipe makes a large, family sized meatloaf which everyone can share.
As the adults in our family, however, prefer more seasoning (including salt), we simply divide the mixture, setting aside a small portion for baby and seasoning the rest for everyone else. We then cook the portions side by side in a large baking pan, dispensing with a loaf pan altogether (we like to do this anyway as it allows the fat to run off!).
Any leftover meatloaf may be frozen for up to one month.
To Make Mouthwatering Meatloaf for Baby You Will Need…
3/4 lb ground beef
3/4 lb ground pork*
1 medium onion, finely chopped
1 cup whole wheat bread crumbs (here's how to make your own)
4 fl oz (1/2 cup) milk
1 small sweet potato, peeled and grated
1 carrot, peeled and grated
2 eggs, beaten
4 oz (1 cup) grated Cheddar cheese
1/2 tsp freshly ground black pepper.
*You can use ALL ground beef in this recipe if you prefer – however, the pork lends a lightness to the meatloaf that we think makes the texture perfect for baby!
Preheat the oven to 350 deg F.
Mix together everything except the pork and beef.
Once everything is well combined, add the pork and beef and mix well.
Either transfer the mixture to a loaf tin or shape with your hands (as described above).
Bake for 1 hour to 1 1/4 hours, until the meat is cooked through.
We hope you enjoy our meatloaf recipe – what do you like to add to yours?
Learn more about introducing meat to baby
Pin It