We received two separate e-mails this week from Mums whose little ones seem to have developed a sweet tooth already!
Connor only seems to like certain fruits
Mum Beverley told us…
and he'll eat sweet potato for breakfast, lunch and dinner. But that's all – if I try to offer him anything else, he either grimaces, gags or won't open his mouth at all.
Well, Beverley, this is actually a very common problem – and it's not surprising when you consider that infant milk (breast milk in particular) has a very sweet taste. If milk has been your little one's sole source of nutrition for much of his first 6 months, then a little resistance to an entirely new flavour is natural!
That being said, we DO recommend trying to nip this in the bud as early as possible. Tempting though it may be to keep your baby happy by indulging his sweet tooth, in the long term it may limit the range of nutrients he receives and lead to very picky eating later on.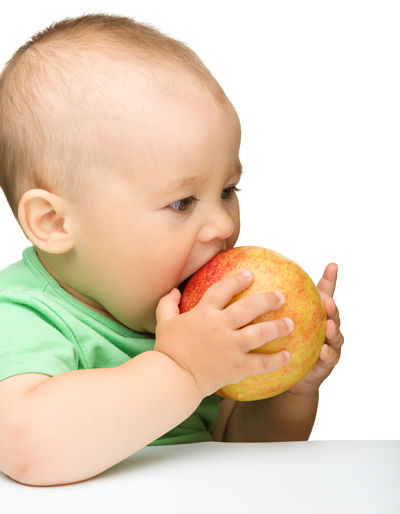 In our experience, the best way to get around a preference for sweet foods is to serve savoury ones in disguise!
Say, for instance, your baby has a passion for sweet potatoes but will steadfastly refuse to eat zucchini (courgette). Then try serving a meal of sweet potato, with just half a teaspoon of zucchini stirred in. Continue to serve this combination for a couple of days, then increase the quantity of zucchini to 1 teaspoon. Over the next few days, continue to increase the amount of zucchini you are adding to the dish, until it becomes the dominant flavour. Eventually, you should be able to serve it separately to the sweet potato!
Of course, we are using zucchini as an example and you can apply this technique of combining sweet and savoury flavours to any foods that your baby either enjoys of refuses.
Don't always assume that a grimace means your baby doesn't like a certain food!
Anxious to please their babies, some parents are quick to withdraw a particular food, convinced that a grimace means that their little one does not like the flavour. However, babies expressions at mealtimes are not always reliable indicators of their opinions – they may pull a face more in surprise at a new flavour than in displeasure! It may also take several attempts to get your baby to try – and appreciate – a new taste… so don't give up too quickly and assume that your little one will only eat sweet potato!
Veggie recipes to tempt your baby
Take a look at some of our vegetable recipe pages – we have lots of ideas and delicious combinations to help your baby enjoy a range of flavours…
Don't forget to leave a comment and share YOUR tips for helping a sweet-toothed baby appreciate a wider range of flavours!
Pin It