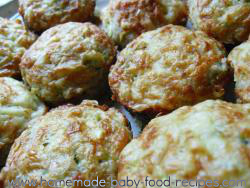 Does your baby turn up his nose at vegetables? If so, then one of the easiest ways of encouraging him to eat them is to 'disguise' them as something else or hide them in something he'd otherwise enjoy!
Our Cheesy Zucchini Muffins are a perfect case in point. They're tempting and tasty, yet they're full to the brim with healthy zuchini (courgettes), making them a nutritious addition to a meal or a wholesome snack all by themselves!
We've added the recipe to our Infant Finger Foods Recipes page, where you'll find loads more recipes for little ones who can feed themselves !
Pin It