Need a homemade baby food recipe that you can put together in under five minutes?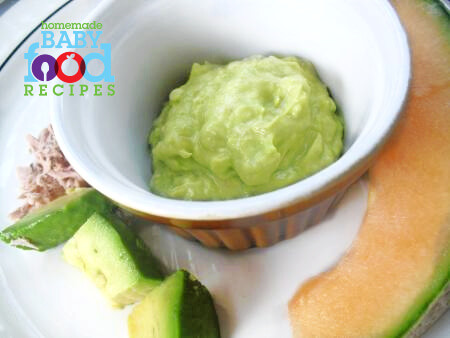 Then why not give this Tuna, Melon and Avocado Recipe a try. It tastes divine, it can be adapted for different stages of development and just look at some of the nutrients it provides….
Protein, B vitamins and Omega-3 essential fatty acids from the tuna
Yet MORE healthy fats from the avocado, plus potassium and lutein (an important antioxidant)
beta-carotene and vitamin C from the melon
calcium from the yogurt
To Make No Cook Baby Food: Tuna, Melon and Avocado Salad, You Will Need…
1 tbsp canned tuna (please see this post for more information)
1 small slice of melon, peeled (we prefer to use watermelon in salads!)
1/2 small avocado, peeled and stoned
1 to 2 tbsp natural yogurt
For younger babies (6 months+) not yet enjoying texture:
Place all ingredients in a blender and process until smooth. Add enough natural yogurt to give you the texture you desire.
For older babies enjoying a little texture:
Puree the melon.
Mash the avocado with the natural yogurt and stir in the pureed melon and tuna.
As a finger food or for baby led weaning for older babies:
Cut the avocado and melon into cubes. Place in baby's dish.
Add the tuna and stir in enough natural yogurt to just coat all the pieces.
NOTE: Whichever method of preparation you use, this dish is best served immediately and is not suitable for freezing.
We hope your baby enjoys this easy and wholesome no-cook baby food recipe – and if you have a favourite meal for your little one that requires no cooking, please leave a comment and share your idea with other parents 🙂
More Ideas and Information…
More homemade baby food ideas – no cooking required
Avocado baby food recipes
Melon baby food recipes
Homemade yogurt recipe


Pin It