It's a holiday today here in the Bahamas, as we know it is for many of you, too!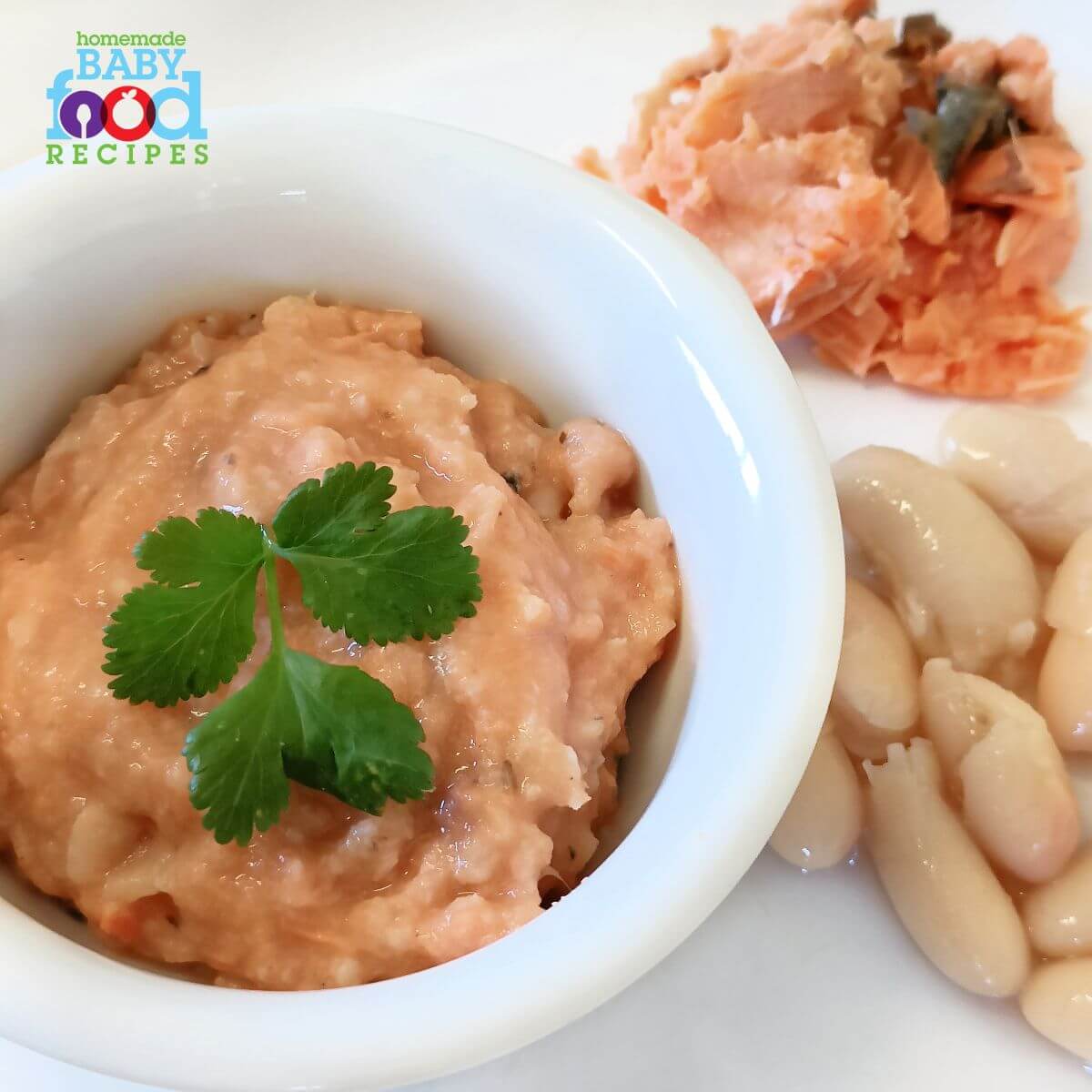 So today's recipe is short, sweet and requires NO COOKING… meaning it's just perfect for warmer days, as well as days when there's little free time to spend in the kitchen!
This recipe is ideal from around 7 months of age, and has a very soft, easy-to-eat texture. Despite its simplicity, it certainly doesn't compromise on nutrition, combining two very powerful foods… cooked salmon and beans!
Salmon is rich in Omega 3 Fatty Acids – GOOD fats that are important for the development of baby's brain and for many other functions throughout the body. Salmon also contains protein, vitamins and calcium.
Interestingly, salmon is one of those foods that may actually be better for your baby CANNED rather than cooked from fresh!
Why?
Well, canned salmon is packed with all its calcium-rich bones and skin. The bones are completely cooked during the canning process , developing a very crumbly, soft texture which makes them easy to crush with a fork and eat right along with the fish itself.
Despite the fact that it's possible to crush the bones, however, they MAY give this puree a slight grittiness. If your baby likes his purees to be completely smooth, then flake the fish with a fork before pureeing and remove the bones, which are easy to spot. This will still be a nutritious dish without them!
The beans in this recipe provide fibre in addition to a range of minerals and vitamins – and they puree to a wonderful, velvety texture. We used cannellini beans, but any white beans will do! You can use no-salt, or low-sodium canned beans (rinsed), or cook up a big batch of white beans from dried (the cheaper option).
If you choose to cook the beans yourself, it gives you the option to try some of the techniques we suggest to avoid the beans giving your baby gas (please see this post for more information).
We hope your baby enjoys this recipe, which you can serve from a spoon, or use as a sandwich filling, toast topper or dip!
To Make Baby's White Bean and Salmon Puree You Will Need…
2 tbsp cooked white beans
1 tbsp cooked salmon (we used canned pink salmon)
1 tbsp low sodium or homemade stock (we used chicken stock, but you could use vegetable or fish stock)
Place the beans and salmon in a blender. Slowly add the stock and process, until the puree reaches the consistency you desire.
For a more calorie-rich version of this recipe, you can blend the beans and salmon with a little olive oil instead of stock. And for a fabulous boost of flavour, try stirring in a little fresh, chopped dill to the finished puree… delicious!
Pin It