If black beans are not something you have thought about including in your baby food recipes, then perhaps today's post and this so-so-simple recipe may just persuade you to give them a try! Black beans are full of wonderful nutrients for your little one and these yummy cakes make a fantastic way for him to enjoy them.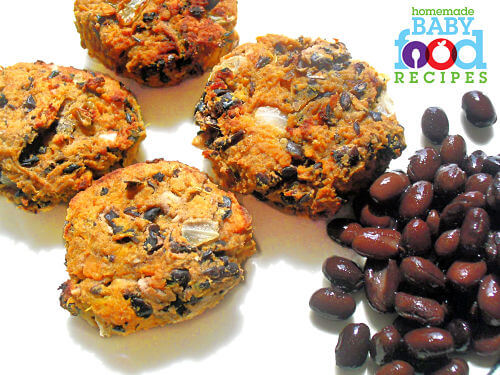 The goodness of black beans
Black beans are a superb source of dietary fibre, protein, B vitamins and minerals. They are also packed with more anti-oxidants than other types of beans – in fact, pound for pound, they even contain more anti-oxidants than 'superfoods' like grapes and cranberries (source: Science Daily)!
Although not particularly well absorbed, black beans do also provide some iron – so they really are a fantastic 'all-rounder' and can make a valuable contribution to your little one's diet throughout childhood and beyond.
They are available both dried and canned. Do remember that – whilst both varieties are nutritious – canned beans may contain added salt. They also tend to be more expensive than dried beans, which you can often buy from bulk bins.
Will black beans give my baby gas?
It's an unfortunate fact that beans do give some babies (and adults!) gas – although we've actually found that black beans don't cause gas as frequently as some other varieties!
But the health benefits of beans make it well worth looking for a way around the problem – and our favourite way of eliminating or reducing this unwelcome side effect is to…
soak the beans before cooking them
discard the water
soak them again
finally cook them in fresh water.
It may take a little extra effort to change the water a couple of times, but it's worth the trouble.
We also recommend offering black beans (and other legumes) to your baby in small quantities at first, to give your baby's digestive system time to adjust to coping with them. We began offering legumes from around 6 to 7 months of age, although you may wish to wait until later if your baby seems to have a particularly sensitive tummy.
One thing we have found is that the more regularly you include legumes as part of your baby's diet, the less likely he is to experience problems with gas… this is probably because his body gradually becomes conditioned to digest them effectively.
It's easy to cook up black beans then puree or mash them with all sorts of veggies to make delicious and wholesome baby food combos. But our recipe today is for a wonderful finger food that your little one can easily feed to himself – the time under the grill (broiler) gives it a little crust that makes it easy to pick up, but the centre is still nice and squishy and easy for baby to manage without teeth.
To Make Nutritious Black Bean Cakes with Sweet Potato for Baby You Will Need…
7 oz (1 cup) dried black beans
1 small sweet potato, cooked and peeled
16 fl oz (2 cups) water
2 cloves garlic
1/2 small onion, chopped
2 tbsp fresh cilantro/coriander, chopped
olive oil
Soak the beans overnight, changing the soaking water at least once.
Mix the pre-soaked black beans with the 2 cups of fresh water and bring to the boil.
Lower the heat and simmer, covered, for 1 to 1 1/4 hours, until the beans are tender. Drain.
Meanwhile, heat a little olive oil in a frying pan and saute the onion and garlic until tender.
In a bowl, mash together the cooked black beans, garlic, onion and sweet potato. Stir in the cilantro.
Form the mixture into little cakes (patties) of a size of your choosing and refrigerate for 1 hour. We find that the mixture is easy to shape just as it is, but if yours seems to be too soft, you could try binding it with some whole wheat bread crumbs.
Place on a greased baking sheet and spray with a little olive oil.
Place under the grill/broiler and cook for 6 to 8 mins until golden, then turn and repeat on the other side.
Cool to a safe temperature and serve.
TIP:  This recipes yields around 14 to 16 little cakes.You can freeze excess cakes for future use – we freeze ours before putting them under the grill, then grill them as needed.
You may use canned beans instead of dried in this recipe, but please look for a low sodium variety or rinse them well if they contain salt.
Learn more about introducing black beans to your baby
More lovely legumes – Lentil Baby Food Recipes
Pin It