Today's recipe is a simple one, but it's hearty, nourishing and has been a 'go to' recipe in our family for many years as all our little ones have loved it! And because it's a 'one pot' meal, clean up is quick and easy too!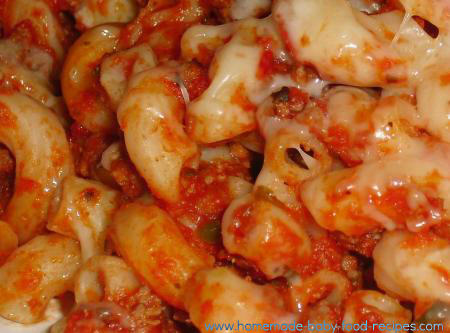 This yummy pasta creation is good for your baby in so many ways!
It's made with iron-rich ground beef.
It includes cooked tomato – an excellent source of lycopenes and vitamin C (which helps your baby absorb the iron from the beef).
The pasta provides healthy whole grains.
The cheese topping gives a tasty little boost of calcium.
We started offering this meal to our babies – very finely chopped – from about 7 months of age. Some parents, however, prefer to wait until later in baby's first year (usually around 10 months or so) before introducing tomatoes, as their acidity sometimes contributes to diaper rash or a rash around baby's mouth. Please review our Tomato Baby Food page for more information.
As mentioned above, this dish is best chopped finely for younger babies, but older babies can manage it chopped roughly (or not at all). This is a great food for older babies to feed themselves from a spoon, as it's easy to pick up – it's also a fantastic (if messy) finger food, ideal for baby led weaning!
We've used pasta elbows in our recipe – you can, of course, use any pasta your baby prefers, but we find that elbows hold on to the sauce perfectly and are just the right size for little mouths and fingers!
To Make Easy Beefy Cheese and Tomato Pasta for Baby You Will Need…
8 oz ground beef
12 fl oz (1 1/2 cups) homemade tomato sauce*
4 oz uncooked whole wheat pasta elbows
8 fl oz (1 cup) water
2 oz (1/2 cup) grated Cheddar cheese
*Making your own tomato sauce is as simple as sauteing chopped, fresh tomatoes in olive oil until they are completely broken down. You can peel then first if you prefer (here's how) – although we tend to just chop the whole thing, skin and all!
You can adjust the flavour of your tomato sauce in various ways – before adding the tomatoes to the pan, you could saute 1 small chopped onion with one clove of garlic (crushed) – this gives a more robust flavour. You could add herbs (around 1/2 tsp dried or 1 tbsp fresh) – our little ones liked basil and oregano. You can also add chopped mushrooms or roasted red pepper!
Place a lidded frying pan over a medium heat and add the beef.
Cook, stirring, until the beef is no longer pink, then drain.
Add the rest of the ingredients (except the cheese) and stir well. Bring to the boil.
Reduce the heat to a simmer and cover.
Cook for around 15 to 20 minutes, stirring from time to time, until the pasta is tender.
Remove from the heat, cool to a safe serving temperature, then top with the grated cheese.
Any leftovers may be stored in the fridge for up to 48 hours or in the freezer for up to one month.
Pin It