Fresh oregano is a super-healthy herb and a great way to season baby's food without using salt.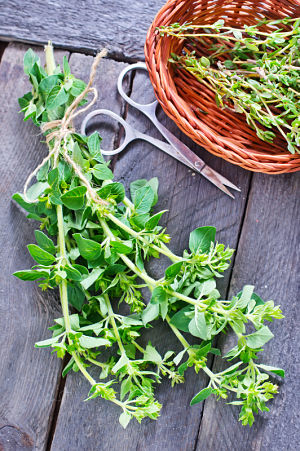 One of the main philosophies behind our site is that baby food does not have to be bland. You might be surprised to find that your baby LOVES stronger flavours, although – if you're breastfeeding – it's maybe not that surprising since he's been having a little taste of everything you've been eating via your milk!
Salt – of course – is not appropriate for baby food (here's why)… indeed, too much salt isn't good for anyone! So it's wise to develop your baby's palate in such a way that he will never find the need to add lots of salt to his meals, but will enjoy the flavourful addition of herbs and spices instead.
One such herb is oregano – a powerhouse of antioxidants and phenolic compounds which, roughly translated, means that it contains substances that help prevent damage to the body caused by 'free radicals'. Free radicals are unstable molecules that move around the body looking for other molecules to 'bond' to – thereby damaging healthy tissues and creating even MORE free radicals.
Simply put, consuming lots of anti-oxidant rich foods helps put a stop to this process and – in the long term – helps guard against serious diseases like cancer.
Many herbs offer these antioxidant benefits – but in research carried out by the US Department of Agriculture – oregano came top of the class as a concentrated source of these healthy nutrients.
And there's more…
… oregano also provides fibre, calcium, iron, vitamin A and vitamin C (source: Nutrition Data).
Oregano has a lovely aromatic flavour and is very popular in Mediterranean cooking. It can be bought fresh or dried, although the fresh variety is more nutritious and tastes much better. If you're in an area where fresh oregano is only available very occasionally (like us), then we recommend buying as much as you can and freezing the excess. We simply put the whole sprigs into a zip top bag and pop them into the freezer.
Oregano can be used in your baby food recipes from 6 months of age – with your doctor's consent, of course. Oregano rarely causes any type of allergic reaction – but, to be on the safe side, begin by adding it to a food your baby is already safely enjoying – that way, if he DOES experience an unwelcome reaction, you'll be able to easily identify the cause.
Here are some ideas for incorporating oregano into your homemade baby food recipes – remember to add it near to the end of the cooking time to retain maximum flavour!
Put some sprigs of oregano into your olive oil to give it a rich flavour
Add oregano to scrambled eggs or omelets
Stir a teaspoon into tomato based pasta sauces
Add oregano to your roasted veggies or sprinkle a little into baby's favourite veggie purees
Add oregano to your meat stews for a Mediterranean twist!
Stir a good pinch into your dough when baking to create herby homemade bread
And yes – add it to baby's pizza (try the Baby Pizza with Sweet Potato on our Sweet Potato Baby Food Recipes page).
One last tip… If you are following a recipe that calls for dried oregano and you want to use fresh instead, then double the quantity (i.e. 1 tsp dried oregano = 2 tsp fresh oregano)
Learn more about using herbs and spices in your baby food recipes