Today we have an interesting recipe for pancakes, sent in by one of our readers, Oleysia.
Oleysia lives in the USA but is originally from Russia. She told us
My baby (and myself!) love this breakfast meal that I call Cottage Cheese Pancakes.

This recipe is from Russia/Ukraine and my Mom reminded me how I used to love them. They are called Syrniki in Russian and are delicious with any fruit puree.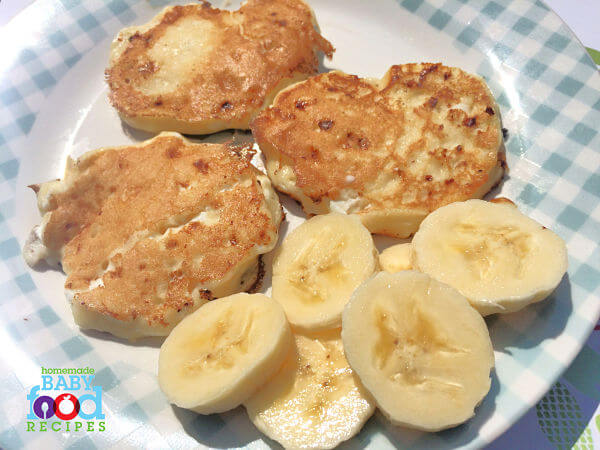 Intrigued by this simple but unusual recipe, we gave them a try, pairing them up with slices of ripe banana.
And the verdict?
We absolutely love them too!
The mildly savoury 'tang' of the cottage cheese is complemented perfectly by the fruit, giving an irresistible sweet/savoury flavour. So irresistible, in fact, that we polished off our first batch before we remembered we were supposed to be photographing them!
The texture is ideal for baby – soft, creamy and very easy to manage without teeth. Quick and easy to prepare, these pancakes make a fabulous breakfast, or could even be served as a unique dessert!
To Make Cottage Cheese Pancakes for Baby You Will Need…
1 cup of cottage cheese
1 egg
1/4 cup (2 oz) all purpose (plain) or whole wheat flour
Simply combine all the ingredients in a bowl to create a soft batter.
Heat a little oil in a non-stick frying pan.
Spoon in the batter, forming little pancakes (we found it easier to keep the pancakes small – when we tried a larger one, it was hard to turn).
Cook for a couple of minutes on each side, until the mixture is set and golden, then serve with fruit.
Thank you so much, Oleysia, for sharing your recipe with our readers. 🙂
Click here for more information about introducing eggs
Discover more baby food recipes with cottage cheese
Pin It