In this recipe, the 'cream' is actually a nutritious blend of cream cheese, yogurt and banana. Naturally sweet, this is a versatile dish that can be adapted for younger babies by pureeing the peach instead of chopping it.
This recipe makes one serving and is best when freshly prepared.
Here's what you'll need… 
1/2 peach, pitted
2 tbsp cottage cheese
2 tsp unflavoured, natural yogurt
thick slice of ripe banana, mashed
drop of vanilla essence
To make it… 
Chop the peach into small pieces, or puree it if you think your baby will spit out the lumps! We used a white peach and left the skin on – however, you may prefer to peel it for your little one (this page will help you decide whether or not to peel fruits and veggies for your baby).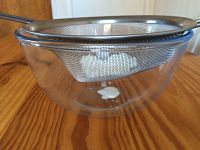 Drain the cottage cheese through a sieve into a small bowl.
Mash the banana and add to the bowl.
Stir in the peach, yogurt and vanilla essence, then serve as dessert or a summer breakfast.
Pin It