Today's homemade baby food recipe is a yummy combination of sweet and savoury – guaranteed to appeal even to those little ones who are less than enthusiastic about eating up their veggies!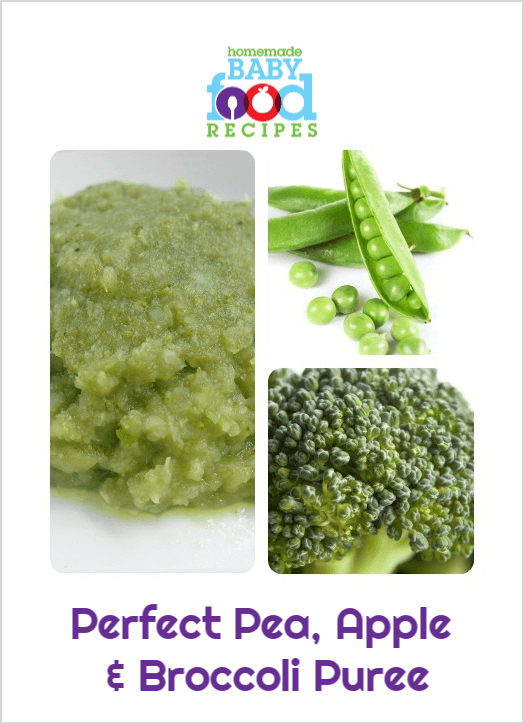 What's more, this quick and easy recipe is naturally nutritious, packed with vitamins, fibre (to help keep baby regular), iron, protein and even some calcium!
We recommend giving this recipe a try when your little one is AT LEAST 6 months of age (broccoli can be a little difficult for more immature digestive systems to cope with).
If you find broccoli to be a 'gassy' food and you're worried it may have the same effect on your baby, try adding some raw, peeled ginger to the pot as you cook the dish (and remove before serving). Alternatively, add a little ground ginger to the cooked puree. Ginger can do wonders in aiding digestion!
Another tip that can help is to avoid using the broccoli stems – the dark green florets are more nutritious anyway!
To Make Perfect Pea, Apple and Broccoli Puree You Will Need…
1/2 Golden Delicious apple (or other sweet apple), cored*
2 tbsp broccoli florets, separated into evenly sized pieces
1 tbsp frozen peas (thawed) or fresh peas (shelled)
3 to 4 fl oz (1/3 to 1/2 cup) low sodium or homemade chicken stock – or use water if you prefer
*We like to leave apples unpeeled when making purees with them, as the skin contains so many nutrients. However, there are situations where it may be better to peel fruits and vegetables for your baby – please see this page for more information.
NOTE: These directions assume you are using thawed peas. If you are using fresh peas, please add them to the pot with the other ingredients at the start of the cooking time.
Cut the apple into wedges and place in a small saucepan.
Add the broccoli florets and pour in the stock.
Bring to the boil, then immediately lower the heat to a simmer.
Cook for 2 minutes, then add the thawed peas.
Cook for around 2 to 3 minutes more, until the apple and veggies are tender.
Remove with a slotted spoon, reserving the cooking liquid, and transfer to a blender.
Puree until smooth, adding back enough of the stock to create the texture you desire.
Serve to baby when adequately cooled!
You can refrigerate any leftovers for up to 48 hours, or place them in the freezer for up to one month (you'll find more information about how to freeze baby food here).
More recipes
Pin It