You don't see too many pumpkin recipes about in the summer – after all, pumpkin is a winter squash, not a summer one! But winter squashes have one big advantage over their summertime cousins… they're more nutritious!
Pumpkin in particular is a wonderfully healthy food, providing baby with lots of beta-carotene, vitamin C and calcium. And the good news is that you don't have to put pumpkin baby food recipes on hold if you're in a part of the world where the fresh variety is not available right now – canned, plain pumpkin makes a quick (and still nutritious) alternative.
In this simple dish – perfect from 6 months of age – we've combined pumpkin with potato and calcium-packed cheese. This delicious mixture is given even more 'yumminess' (our spell-checker has underlined that in red, but we definitely believe it should be a word!) by the addition of sage, a wonderful tasting and vastly underrated herb. If you haven't yet introduced any herbs or spices to your baby, then please visit this page on our site to learn more about doing so!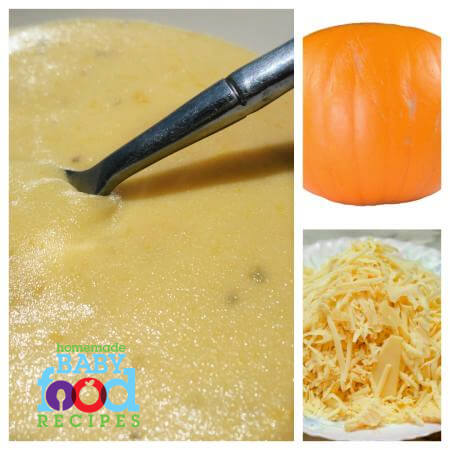 To make Potato and Pumpkin Purée you will need
1 medium potato
4 oz piece of pumpkin or 1/2 cup canned pumpkin puree*
1 tbsp olive oil
4 tbsp grated Monterey Jack cheese
2 fl oz milk (use whole milk, breast milk or formula)
1/2 tsp dried sage
*If using canned pumpkin, simply mix it with the potato dice once they're cooked.
Peel the potato and pumpkin, cut into dice and place into a saucepan. Just cover with water.
Bring to the boil, then reduce heat and simmer until tender (approximately 5 to 10 min).
Drain and mash well with the olive oil, milk, cheese and sage. Finish with a hand blender – and for a completely smooth result, push through a sieve (fine mesh strainer).
Baby's puree is ready – quick, simple and bursting with wholesome goodness.
Check out more tasty pumpkin baby food recipes here
Pin It