Nothing says fall like pumpkin… and nothing showcases pumpkin quite so well as a good old pumpkin soup!
As if all the nutrients in pumpkin weren't enough (pumpkin is an excellent source of beta-carotene, vitamin C and calcium), we've teamed it up in today's recipe with garbanzo beans, which also provide plenty of protein and iron.
The result? A delicious, velvety soup that is both warming and highly nourishing for your baby… not to mention easy to eat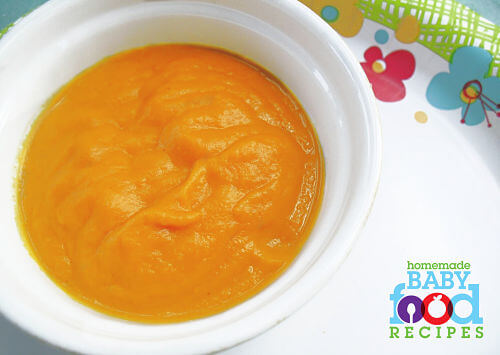 This soup recipe is suitable for babies from 6 months of age who have already been separately introduced to all the ingredients. Some of the ingredients – namely the garlic, onion, herbs and spices – are not essential to the TEXTURE of the recipe, but do provide a robust, full flavour. That means you can leave them out if you don't wish to include them in your little one's diet as yet and your baby prefers a milder, more subtle flavour.
This recipe produces enough soup for a family of four to share… and we highly recommend giving it a try! The garbanzo beans give it a decadently creamy texture and it's reassuring to know that the creaminess is from such a nutritious source!
If you don't wish to use this as a family meal, then you can simply scale down the ingredients or freeze the leftovers – this soup freezes nicely. You can also use portions of this soup as an interesting and unique sauce for pasta.
To Make Baby's Pumpkin and Garbanzo Bean Soup You Will Need…
4 tbsp olive oil
1 large onion, chopped
1 lb fresh sugar pumpkin, peeled and diced
2 garlic cloves, finely chopped
2 tsp paprika
2 tsp cumin
1 x 16 oz can of garbanzo beans (also known as chickpeas) – either buy the reduced sodium variety or triple rinse regular beans and remove their skin
24 fl oz (3 cups) low sodium or homemade chicken stock
8 fl oz (1 cup) of pure, unsweetened apple juice
Heat the oil in a medium saucepan and add the onion and pumpkin.
Cook, stirring, for a minute or two, then add the garlic.
Continue cooking for several minutes until all the veggies are pale gold in colour.
Add the paprika and cumin and stir well, then pour in the garbanzo beans and the stock.
Bring to the boil, then lower the heat and simmer, semi covered, for 30 minutes.
Add the apple juice, simmer for 5 minutes more.
Allow to cool, then puree in batches in a blender, or puree right in the pot with a hand blender until perfectly smooth.
Warm to a safe serving temperature and enjoy with baby.